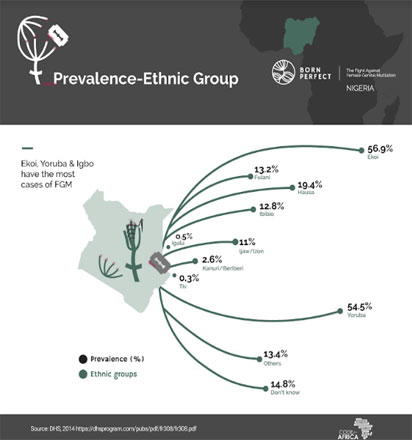 We were scarred for life before we turned 15! stories of women who went under the knives of genital mutilators
By Chioma Obinna
Decades ago, mothers across Nigeria ensured that their female children were circumcised, an obnoxious practice. Many live with the scar today. Although the mothers regarded Female Genital Mutilation, FGM, as a traditional practice they vowed to protect, others believed it was one way of preventing the girl-child from becoming promiscuous.   Other reasons given were to protect family honour, hygiene, virginity; modification of socio-sexual attitudes (countering failure of a woman to attain orgasm); increasing sexual pleasure of the husband; enhancing fertility and increasing matrimonial opportunities among others. Contrary to these views, however, the World Health Organisation, WHO, says FGM has no health benefits for girls and women.
Recognised internationally as a violation of the human rights, FGM reflects deep-rooted inequality between the sexes and constitutes an extreme form of discrimination against girls and women. Meanwhile, experts say FGM is associated with haemorrhage, infection, acute urinary retention due to trauma, damage to the urethra or anus, chronic pelvic infection and other health implications such as prolonged labour, leading to fistulae formation, and increased perinatal morbidity and mortality amongst others. Victims are also bound to suffer mental and psychological agony which is deemed the most serious complication because the problem does not manifest outwardly for help to be offered. According to WHO, more than 200 million girls and women have undergone FGM in 30 countries, Nigeria inclusive, where the practice is prevalent while about three million girls are at risk annually. Worse still, majority of these girls are scarred for life before they turn 15. Sunday Vanguard looks at the obnoxious practice, its effect on victims, and why it should be eliminated.
Getting her to speak with us was not easy.   Why? She had suffered psychological agony since she attained the age of 10. 'Gini ka ichoro kam gwagi?' (What do you want me to tell you?), Ijeoma, 55, and a native of Ohii in Owerri West local government area of Imo State, asked in Igbo language.
"I was circumcised at the age of ten and I lack words to describe what I went through".
Decades after, Ijeoma still finds it difficult to forgive her mother for allowing her go through that experience. Unfortunately, it was not the choice she had control over; it was made for her and she was circumcised. The development left her paralysed in one leg.
It all started one fateful Friday when her mother took her to a local female circumcision specialist.
"I was pinned down by four women of my mother's age group before the cutter had her way. I struggled as a child but they overpowered me. I suffered in their hands until sharp pains weakened my whole body and I became unconscious.   After few hours, I woke up to find that I could not lift my right leg."
Ijeoma is one of the estimated 200 million girls and women worldwide and about 19.9 million Nigerian girls and women who have been subjected to female circumcision usually done by partial cutting or total removal of the external female genitalia for cultural, religious or other non-medical reasons.
The pain lives with me – Abimbola
Just like Ijeoma, Abimbola Aladejare also was not carried along when she was taken to the FGM specialist. Today, Abimbola is living with the scar of what was done to her over 30 years ago.
.My journey as a victim began when I was eight days old.   I could definitely not make a decision of my own," she told Sunday Vanguard.
"In Ado Ekiti, it is mixed feelings as people still feel it is all about culture. But I feel bad when I see young children being subjected to this practice.   I know the pain I still feel till today.   It is a cut that lasts forever.   It cannot be undone. That is how bad FGM is".
Abimbola, a native of Ado-Ekiti, Ekiti State, said that coming from one of the states that rank high in FGM, she first had to come to terms with the fact that what was done to her cannot be undone.
"I had to seek knowledge on how to move from being a victim of FGM to being a survivor of FGM. I chose to conquer.   I chose not to be sorry for myself", she stated.
"As a survivor of FGM, the first reality you face is that you wish you were as lucky as those of your age bracket that did not have to go through FGM; you wish you have normal sexual external genitalia; low self-esteem sets in; then inferiority complex."
According to her, the practice is still happening in Ekiti as many women in the state believe that if they don't do it, their children will die. "Cultural and traditional beliefs are responsible for this practice because some people see it as a heritage. Removal of female genital confirms that the female child in the South-West is sometimes treated like a slave in her home", she said.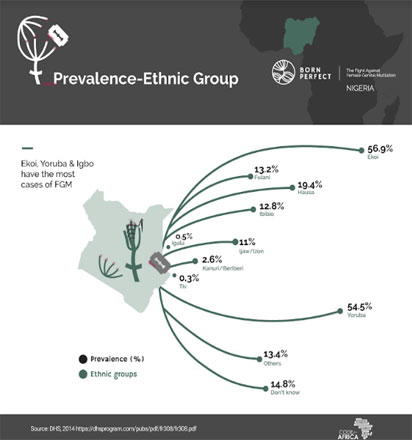 "Some women say if their mothers circumcised them, they must also circumcise their female children".
Having been ranked second in the country in FGM, Ekiti State government mobilised security agencies to arrest and prosecute violators of the State Child's Rights Act and Female Genital Mutilation Prohibition Law 2002.   "This law should be implemented, "the victim stressed.
Abimbola, now a brand ambassador of The Girl Generation (TGG) in Nigeria, dismissed the myth that retention of the clitoris could cause promiscuity and stillbirth, adding that this myth had been disproved by medical experts.
"FGM is a violation of the rights of girls and women and it will mean to a child that you love and trust her when you leave her uncut. Nothing but myths and misconceptions wrapped around taboos are the major factors that make FGM to thrive", she told Sunday Vanguard.
"FGM is harmful; it has no benefit to the survivor but brings only pains and complications and governments across Nigeria have done so well to ban FGM which makes FGM a criminal offence. FGM can end in one generation if you and I perform our duties of standing up for girls in our spheres of influence, i.e. at home, workplace, circle of friends, etc.
"Everyone is affected by FGM, both male and female alike, and achieving zero tolerance to FGM, everyone must be actively involved in the campaign".
Meanwhile, experts describe FGM as the highest form of domestic violence.   Unfortunately, according to the 2013 National Demographic Survey, NDHS, one in four Nigerian women from ages 15-49 has been circumcised and traditionalists' women have the highest proportion with 35 per cent. Statistics, according to the type of circumcision, show that six per cent of the victims had cutting with no flesh removed while 63 per cent had cutting with flesh removed and it is more prevalent in the southern zones than in the North. The 2013 NDHS also shows that 82 per cent of women in Nigeria undergo circumcision before age five.
The report notes that there are specific practices in relation to FGM and its prevalence varies across all regions, ethnic groups and religions in Nigeria.
It further shows that the proportion of circumcised women is lowest among Muslim women (20 per cent) and highest among traditionalist women with 35 per cent. Female circumcision is prevalent among Yoruba women with 55 per cent, followed by Igbo women with 45 per cent.   32 per cent of urban women are circumcised compared to 19.3 per cent of rural women. There are also urban-rural differences in the proportion of women who had cutting with flesh removed (65 per cent and 60 per cent respectively).
"More women in the southern zones than the northern zones are circumcised. Osun has the highest prevalence of circumcised women (77 per cent), followed by Ebonyi (74 per cent) and Ekiti (72 per cent); Katsina has the lowest prevalence (0.1 per cent). The practice of sewing the genital area closed after cutting is most prevalent in Nasarawa (22 per cent), Kaduna (21 per cent) and Bayelsa (20 per cent)", the report explains.
One striking thing in the 2013 report is that female circumcision is less prevalent among women with no education. Again, those in the lowest wealth quintile, about one in three women with a primary education or higher are circumcised, as compared to only 17 per cent of women with no education. Similarly, 17 per cent of women in the lowest wealth quintile are circumcised compared to 31 per cent in the fourth and highest quintiles.
According to the Demographic Health Survey 2013 and UNICEF 2013 and 2016 reports, while FGM prevalence in Nigeria is the highest in the region, at 24. 8 per cent among women, aged 15 to 49, it is globally significant in representing some 20 million women and girls who have been cut or at risk of being cut. And this represents 10 per cent of the global total.
The DHS 2013 also shows that there are variations across Nigeria's six zones and 36 states. South East and South West have the highest prevalence (49 per cent and 47.5 per cent respectively). This is further evidenced by Ebonyi State in South-East and Osun State in South-West having the highest prevalence by state (74.2 per cent and 76.6 per cent respectively). North-East is the zone with the lowest prevalence, at 2.9 per cent, and Katsina (in North-West) is the state with the lowest prevalence, at 0.1 per cent. .
But the 2016/2017 Multiple Indicator Survey, MICS, shows a reduction in the burden.   It also reveals that South-West is now leading with 41.1 per cent, followed by South-East with 32.5 per cent, South-South 23.3 per cent, North-West 19.3 per cent, North-Central 8.6 per cent and North-East 1.4 per cent.
No health benefits, only harm – WHO
Now, contrary to the belief that FGM can ease childbirth, a study carried out for WHO in 2006 in six African countries (including Nigeria) reported that women, who had undergone FGM, had significantly more problems at childbirth than those who had not undergone FGM, including 'caesarean section, postpartum haemorrhage, episiotomy, extended maternal hospital stay, resuscitation of the infant and inpatient perinatal death'.
According to the study, other complications caused by FGM are well documented and include sepsis, an increased risk of stillbirth, urinary tract infections, hepatitis, pelvic inflammatory diseases, infertility, a higher risk of HIV, obstructed labour, which results most times to vesico vaginal fistula (VVF), and recto-vaginal fistula (RVF)
Throwing more light on the magnitude of complications arising from FGM, a Consultant Obstetrics and Gynaecologist at Ifako Ijaiye General Hospital, Lagos, Dr. Kayode Adebayo, Sunday Vanguard that FGM was totally wrong and should be abolished as it has no medical relevance and health benefit for women.
He said right from the mutilation process, FGM has a lot of risks for the girl-child because some of the children bleed to death and sometimes catch infections from there.
"Many girls have contracted HIV and other infections from the procedure because the operators of the mutilation use same instruments to mutilate several girls brought to them.   Even if they survive, they are maimed for life because, one, the architectural design of the vagina is destroyed due to poor healing of the wound. During the process, an important part of the vagina which is the clitoris is removed and the girl is subjected to suffering for life as she grows into womanhood.   She no longer enjoys sex. The place is like a hole without anything.   FGM is a sin against humanity. No good thing comes out of it.   When a girl child is born perfectly, there is no need for such practice," Adebayo stated.    In some states like Imo, the practice is still done in secrecy with a prevalence rate of 68 per cent despite the state government's sponsoring of a bill to impose 14 years jail or a fine of N250, 000 on perpetrators.
According to a survivor, Nkechi Chieke, a native of Umugota in Ngor Okpala LGA of the state, FGM should be stopped as many women have suffered broken homes due to their inability to satisfy their husbands' sexual urge.   "Mothers particularly are responsible for majority of these cases. They secretly indulge in the act, leaving some of us, the victims, in perpetual agony and regrets", she said.
Findings by Sunday Vanguard show that FGM is rampant in Ngor Okpala, Oguta,   Ohaji/Egbema, Mbaitoli and Ikeduru, areas of the state.
Four major types of FGM
Type 1: Often referred to as clitoridectomy, this is the partial or total removal of the clitoris (a small, sensitive and erectile part of the female genitals), and in very rare cases, only the prepuce (the fold of skin surrounding the clitoris).
Type 2: Often referred to as excision, this is the partial or total removal of the clitoris and the labia minora (the inner folds of the vulva), with or without excision of the labia majora (the outer folds of skin of the vulva ).
Type 3: Often referred to as infibulation, this is the narrowing of the vaginal opening through the creation of a covering seal. The seal is formed by cutting and repositioning the labia minora, or labia majora, sometimes through stitching, with or without removal of the clitoris (clitoridectomy).
Type 4: This includes all other harmful procedures to the female genitalia for non-medical purposes, e.g. pricking, piercing, incising, scraping and cauterizing the genital area.
Deinfibulation refers to the practice of cutting open the sealed vaginal opening in a woman who has been infibulated, which is often necessary for improving health and well-being as well as to allow intercourse or to facilitate childbirth.
Efforts to eliminate FGM
In 2007, UNFPA and UNICEF initiated the Joint Programme on Female Genital Mutilation/Cutting to accelerate the abandonment of the practice.   Also, in 2008, WHO, together with 9 other United Nations partners, issued a statement on the elimination of FGM to support increased advocacy for its abandonment, called: "Eliminating female genital mutilation: an interagency statement".
In 2010, WHO published a "Global strategy to stop health care providers from performing female genital mutilation" in collaboration with other key UN agencies and international organizations.
In December 2012, the UN General Assembly adopted a resolution on the elimination of female genital mutilation.
Building on a previous report from 2013, in 2016, UNICEF launched an updated report documenting the prevalence of FGM in 30 countries, as well as beliefs, attitudes, trends, and programmatic and policy responses to the practice globally.
In May 2016, WHO, in collaboration with the UNFPA-UNICEF joint programme on FGM, launched the first evidence-based guidelines on the management of health complications from FGM. The guidelines were developed based on a systematic review of the best available evidence on health interventions for women living with FGM.
To ensure the effective implementation of the guidelines, WHO is developing tools for front-line health-care workers to improve knowledge, attitudes, and skills of health care providers in preventing and managing the complications of FGM.