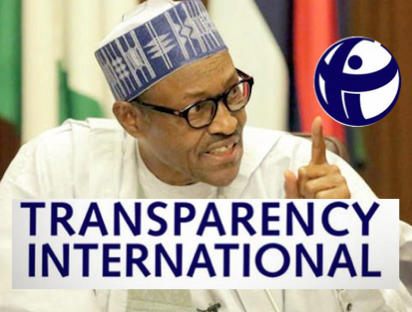 President Buhari
By Donu Kogbara
WEEK before last, I wrote about Transparency International's declaration that Nigeria is more corrupt under Buhari than it was under Jonathan. My view was that Buhari – whose reputation for strictness and probity inspired me and millions of other Nigerians to vote for him – ought to be extremely ashamed of this damning verdict (which I assumed was accurate).
A Vanguard reader, who isn't from Buhari's Northern core constituency and wishes to remain anonymous, expressed an opposite opinion, which I am publishing in the interest of journalistic balance.
Good day Donu, I disagree with Transparency International on the issue of perceived corruption in Nigeria; and I think that anybody who is truly sincere with themselves would too. How is it possible that during the last administration Nigeria ranked higher than it is doing now?
I mean we have TSA running on all government agencies, definitely this would have reduced pillaging. We also have government agencies posting high yields into government coffers. Customs, NPA, JAMB, etc., have all improved their revenue remittance.
We have a Finance Ministry that isn't selling petrol as high as previous years, but still isn't delaying or borrowing to pay majority of salaries.
We have pensioners – who have been owed even in times when we had plenty – being paid now. We also have our reserves rising, whereas they were depleted at astonishing rates when we sold oil much higher.
We have no white elephant paper projects like the centenary city existing with nothing to show these days.
In one breath they tell you Buhari is heartless, stubborn, doesn't obey the court, uses only brute force, still a dictator; then they say he is not firm, it was Idiagbon who earned him the no-nonsense reputation, which isn't deserved.
I'm finding it hard to understand. Time for us to be sincere and open so we can save our country. Time is running out.
A chip off the old block!
IMO State Deputy Governor, Eze Madumere, has rejected a consolation prize that was recently offered to him by his boss, Governor Rochas Okorocha.
Okorocha (who is also planning to go to the Senate when his gubernatorial tenure ends next year) has informed Madumere that he will support him if he contests the Imo East Senatorial seat in 2019.
Madumere is neither impressed nor gratefully jumping for joy because he wants to be the next governor (and, by the way, the first governor from his marginalized Owerri zone since Nigeria emerged from military rule in 1999).
Wahala dey-o!…because Okorocha intends to bestow the APC governorship ticket on Chief Uche Nwosu, his chief-of-staff and son-in-law.
Paragons of virtue
Madumere, meanwhile, feels "molested…and insulted"…and says that his fate is no man's hands, that he has a "God-given vision to better the lot of Imolites" and that "If Jesus Christ could be ill-treated by those he called his friends and was later betrayed by Judas, how much more a mere mortal like me."
My mother is from Imo State and from the same Owerri zone as Madumere; but I've not followed Imo politics closely for a while, so don't know anything about Madumere (largely because deputies tend to be almost invisible, especially when they have mega-flamboyant principals like Okorocha); and I have no idea whether Madumere would be a good, bad or average governor.
However, I do know that Okorocha has been an extremely bad governor…and that his son-in-law is far from exemplary. And even if both Okorocha and Nwosu had been paragons of virtue, talent and good governance, it is absolutely outrageous that Madumere is being told to forget about trying to occupy the top slot just so Okorocha can foist a member of his family on the state.
President Buhari, the elderly leader who stands at the pinnacle of the party to which Okorocha belongs, can perhaps be regarded as Okorocha's political father; and since Buhari is frequently accused of being chronically nepotistic, I don't think it would be unfair to describe Okorocha as a chip off the old block!
And, by the way, Okorocha says that he intends to pursue the Presidency when Buhari completes his second tenure (it's amusing how swaggeringly sure APC folks are that their Oga will win the 2019 presidential election!)
I will be amazed if Igbos agree to give their precious, long-awaited "turn" on the big stage to a man who has failed to shine on a small stage and has, quite frankly, been an embarrassment overall.
HMMM!
THE Independent National Electoral Commission, INEC, recently announced exact dates for the next nine general elections – 2019 to 2055 inclusive.
INEC Chairman, Professor Mamood Yakubu, justified this decision by pointing out that in other democracies, such details are known in advance and are not topics for endless speculation.
Long story short, Yakubu aims to inject certainty into the electoral calendar and to enable efficient long-term planning by the Commission and all stakeholders.
This rationale sounds fine and dandy, but I very much doubt that Nigerian politicians will stick with Yakubu's disciplined agenda for the next 36 years!
Responses to: [email protected] or to 0802 747 6458 OR 0811 675 9752 (texts only). PLEASE KINDLY NOTE THAT UNLESS YOU REQUEST ANONYMITY, YOUR COMMENTS MAY BE PUBLISHED, WITH YOUR NAMES AND CONTACT DETAILS ATTACHED.