By Simon Ebegbulem, Benin-City
TROUBLE is brewing between Edo State government and prison authorities following the alleged beating up of officials of the state Public Works Volunteer Task Force (PUWOV) for attemping to arrest one prison officer who allegedly picked a passenger at a wrong place.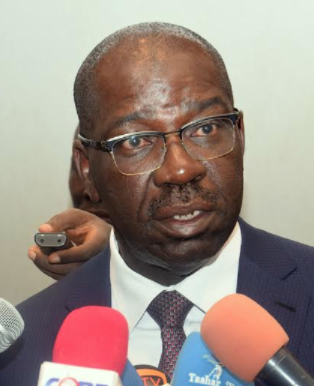 A video, which went viral, showed one of the PUWOV officials, identified as Eguagie Iyekekpolor, being forced to swim in mud water at the premises of the prisons' headquarters located off Sapele Road, Benin-City.
It was gathered that three PUWOV officials had intercepted an official of the Nigeria Prisons Service for picking passengers in front of Unity Bank, close to the Oba of Benin palace, along Airport Road.
The PUWOV officials were said to have asked the prison official, who was in company of his wife, to drive to their office at the Urhokpota Hall but the official, rather than driving to the office, took them to the Nigeria Minimum Prisons where they were beaten to a pulp.
The Head of PUWOV, Kelly Okungbowa, narrated that policemen attached to the Task Force pleaded with the prison officials to leave their boys but they refused.
The incident infuriated the state government, forcing the Secretary to the State Government, Osarodion Ogie, to summon the Prison Comptroller in the state, S.N. Edoghutu.
Ogie berated Edoghutu and urged him to produce the men that beat up the PUWOV officials, vowing that the officers will be prosecuted.