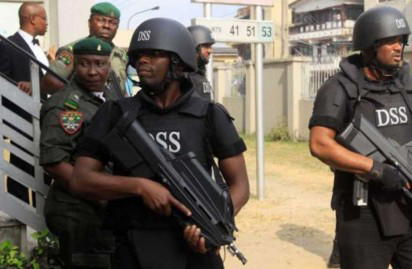 DSS OPERATIVES
Tony Ezimakor, the Abuja Bureau Chief of Independent Newspapers, is still being held by the Department of State Services, DSS, without charge, despite appeals by well-meaning individuals, activists and other groups.
Rights activists, lawyers, non-governmental organisations, NGOs, and journalists have decried DSS' undemocratic act by holding Ezimakor for days without arraigning him in court.
Yesterday marked the fifth day Ezimakor willingly walked into the head office of DSS in Abuja, in response to an invitation from the security agency.
The Abuja-based journalist is being held purportedly over exclusive stories on Boko Haram campaign and negotiations with the insurgents.
Citizens Advocacy for Social and Economic Rights, CASER, yesterday, added its voice to the call on DSS to immediately release the journalist.
CASER said: "It is utterly shameful for state authorities to use punitive detention as a means of attempting to stifle truth, which is the reason for Section 39 of the Constitution of the Federal Republic of Nigeria.
"The DSS must quickly realise that it would be constituting itself into an enemy of democracy in a modern Nigeria if it begins to hound journalists either for their opinions or for publishing well-researched facts that have the potential of exposing corruption and grand deceit in official circles.
"Ezimakor's published investigative report on the involvement of a Swiss foreign service agent and the alleged clandestine payment of millions of Euros by the Nigerian government to secure the release of the kidnapped Chibok girls, deserves commendation."
Other groups that have added voice to the cry to have Ezimakor released are Muslim Rights Concern, MURIC; Nigeria Union of Journalists, NUJ, OurMumuDonDo, a coalition of civil rights organisations led by Charly Boy.