Dear Bunmi,
My 20-year-old son was an undergraduate when he got in with a wrong group and was arrested with some of his gang members for robbery.
He's currently serving an I8-month sentence and is due to be released soon.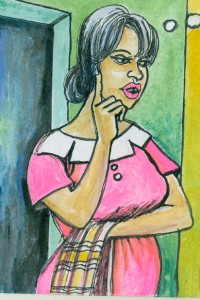 When he comes out, I want him to live with me so I can stop him from going off the rails again.
My husband – his stepfather – says he's a waste of space and that if he comes back, he'll move out. Since I own the house, who do I put first, my son or my husband?
Helen, by e-mail.
Dear Helen,
Whatever mistakes your son has made, he's still young and needs to feel loved and accepted to get his life back on track.
If your husband feels this hostile towards your son, he isn't worthy of the role of a stepfather or husband. As a mum, you have to put your child first, no matter what.
Explain to your husband how important this is to you and that it will only be for a limited time.
The reason so many ex-convicts re-offend is lack of support. Be there for your son.
Offer him a safe place away from the temptations of his previous life. If your husband doesn't like it, let him be the one to go.