THE release of 106 of the 110 students of Government Girls Science Technical College, GGSTC, Dapchi, Yobe State abducted by the Boko Haram terrorist group on February 19, 2018 is a welcome development though the abduction should not have happened at all.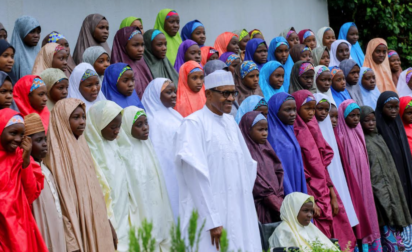 The girls spent exactly 31 days in the custody of the insurgents who invaded after security arrangement around the school were understandably relaxed.
Five of the girls reportedly died. One of the students, Leah Sharibu, is still being held by the insurgents because she refused to convert from Christianity to Islam as the insurgents demanded.
Federal Government officials said no ransom or exchange of prisoners was involved as reportedly happened in the case of some of the Chibok schoolgirls who were released earlier. It is, however, hard to believe that Boko Haram would take the risk of abducting the schoolgirls in a highly-secured area and return them after negotiations without walking away with cash bounties as has been reported in the past.
The fact that the terrorists also brought the girls back themselves into Dapchi town centre in convoys, with their flags flying and in broad daylight did not portray them as a defeated enemy. It actually gave them the opportunity to be given a "rousing reception" by Dapchi people.
This did not help in dousing the unwholesome speculations surrounding the manner in which the Buhari government has conducted the anti-terror war.
We find this display of triumphalism by the Boko Haram terrorists when they returned the Dapchi girls particularly disturbing against the background of repeated claims by the Buhari government that they had been "decimated", "defeated", "decapitated", "degraded", among other fanciful terms used to portray the insurgents as a vanquished foe.
Why would a conquered enemy still have the ability to move with the force and self-assurance we saw Boko Haram displaying on videos, and causing the Federal Government great embarrassment?
Why is the Nigerian government negotiating with people it claims to have defeated? If as administration officials claim that no Nigerian territory is in the hands of the Boko Haram terrorists, pray, where were these girls taken to? Where are the remaining Chibok girls?
As we engage in self-congratulations that the Dapchi schoolgirls have been brought back, we hold President Buhari to his promise to ensure that Miss Sharibu and the rest of the Chibok girls are also released unharmed. Nothing less than that is acceptable. We should not abandon the families of the deceased Dapchi girls. Government failed in their duty to secure them.
We call on all Nigerians to put aside politics in dealing with our Boko Haram insurgency challenges. This burden belongs to all of us.