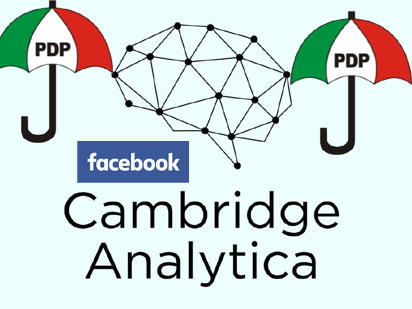 Cambridge-Analytica
By Dirisu Yakubu
ABUJA-The Peoples Democratic Party (PDP) has pilloried the Presidency for "falsely" accusing it of hacking into Muhammadu Buhari's personal data in the run up to the 2015 general election.
The party said President Buhari's handlers decided to concoct the fabrications just to divert public attention from the overwhelming national and international rejection of their administration especially Bill Gates' verdict on the economy.
PDP National Publicity Secretary, Kola Ologbondiyan, in a statement on Saturday, said the Presidency, in its haste to dish out lies, failed to realize that contrary to its claims, the report they relied upon did not even mention the PDP or any of its officials.
"Since the PDP has never been involved in hacking into the any person's data, we decided to peruse the documents and publications in the Guardian UK relied upon by President Buhari's Senior Special Assistant, Mallam Shehu Garba, only to discover that none of them alluded to any involvement of the PDP or any of our officials or members, directly or indirectly of being in any way whatsoever, a part of the said saga.
"It is incontrovertible that the documents had clinically stated that, 'there is no suggestion that Jonathan knew of the covert operation.' Nigerians must therefore be shocked at the extent the Buhari-led Presidency can go in its penchant for beguiling, contrivance, deceit, fabrication and lies.
"Like a bunch of famished broom, it is clear that the sinking Buhari Presidency has become desperate in its bid to divert public attention from its multifarious failures and damning verdicts from national and international figures, " the party said even as it dismissed claims that is scared of going to the polls.
" It is laughable for the Presidency to say that the PDP is afraid of elections. This is the same Presidency that recently informed Nigerians that President Buhari was delaying his declaration for 2019 for fear of political opponents.
"Who is afraid of election? Is it the PDP or the President's All Progressives Congress (APC) that has failed to conform with its constitutional provision of constituting a Board of Trustees (BoT); a party which is so afraid to conduct even internal election and had to extend the tenure of its executives because its stuck 2019 presidential candidate is even afraid of other possible contestants within its fold?
"From the actions of the APC, it is manifest that the party is not only mortally afraid of elections but engaging in all manner of shenanigans to suppress opposition in our nation," the party further noted.