ENUGU—THE management and students of Godfrey Okoye University, Enugu, have commended  Governor Ifeanyi Ugwuanyi of Enugu State for releasing the sum of N500 million agreed upon as the state government's contribution to the construction of the Ugwuomu-Nkwubor-Godfrey Okoye University road.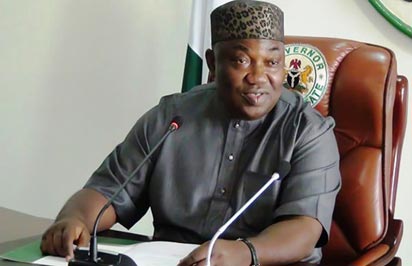 The Vice Chancellor, Prof. Christian Anieke, who led a delegation of the university's officials to the Governor's Office, also thanked Ugwuanyi for a 500KVA transformer his administration donated to the university, saying: "We are very grateful that in a very short period of time, you fulfilled your promises to us."
Prof. Anieke while briefing Gov. Ugwuanyi on the progress of the road project, appreciated him for the opportunity to partner with the university.
Gov. Ugwuanyi in his brief remark thanked the university for the surprise visit and reiterated his administration's commitment to the education sector in particular and the wellbeing of the people of the state in general.
It would be recalled that the Enugu State Government in keeping with its massive road construction works both in the rural and urban areas recently awarded contract for the construction of a 10-kilometer Emene-Ugwuomu-Nkwubor-Godfrey Okoye University road in Enugu East Local Government Area of the state at the cost of over N1.5 billion.
The road, which leads to the permanent site of Godfrey Okoye University, Enugu, was flagged off by the governor, a few weeks ago after "a special arrangement" was reached with the University authorities with the aim of attracting development to the institution.
The university had made a request to partner the Enugu State Government on the said road project, which was fundamental to its development, noting that all the institution needed from the state government was a total of N500 million while it sources for the remaining funds through partnership with other agencies and donors.