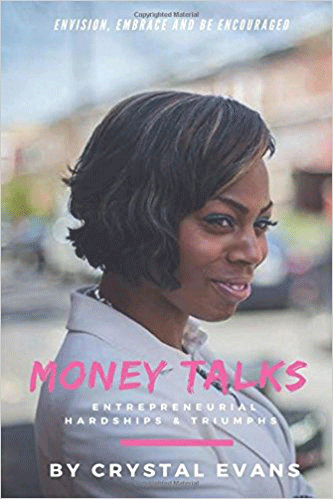 Crystal Evans
By Dotun Ibiwoye
Money Talks: Entrepreneurial hardship and triumphs' is an agenda setting book. The comprehensive and concise 33- page book takes a firm and foundational account of the seeming intractable menace of giving up when in despair and poverty.
The book was written by Crystal Evans, a black American woman, who grew up in Philadelphia, and was raised in a lower class family, but determined to succeed notwithstanding her multiple economic impediments.
The author, an entrepreneur and an activist, mirrors the trials and travails she passed through while growing up and understands the plights of the underprivileged minorities in the United States.
The book seeks to help define a path for the career-minded woman. After attending school online for two years, and operating her company full-time, she discovered several critical approaches needed to learn how to manage her business.
Evans also asked the most critical question in this book – Can financial literacy end the cycle of generational poverty, homelessness, and black-on-black crime?
This question is dissected in the book and sheds light on the quality of education and the quality of life.
According to Evans: 'Even though I had this help; it was me who was going to bring my vision to fruition. Scared, nervous and unsure of who would do business with me. On July 13, 2009, I found the courage to visit the City of Philadelphia to obtain my business license'.
Since a man's history is ruled by his actions and inactions, the task ahead calls for thorough and concerted efforts to salvage and advance his improvement in life, Evans breaks down issues in the book: 'Nasty attitudes and little or no enthusiasm make us lack influence. Start boosting your esteem, imagine your life's blueprint, do the research and learn how to identify relevant industry regulations and methodologies''.
She also affirmed that her advice to her friends and family who want to start their business to spend 2 hours per day on their plan, that is 14 hours per week executing that plan, 56 hours
per month creating a cash flow, 672 hours per year mastering operational procedures.
On perseverance, she affirmed: 'People want to know how doing business with you will be advantageous and useful. I call this, my "help me, help you," formula. Get comfortable with networking and introducing yourself to others that have a need for your services or products.
Finally, be persistent and always follow-up! You never know, who knows who, or who wants to make that $100,000.00 deal'
She believes that if minority of the adults and youths, who participate in public assistance programs, were introduced to financial literacy they could rid their financial handicaps, retain and compete in diversified careers and also fit-in the globalized world.