lThey attempted to burn down the station—Police
By Ike Uchechukwu
CALABAR—There was pandemonium in Itigidi, headquarters of Abi Local Government Area of Cross River State, following the alleged murder of a community leader and mortician, Mr. Isong Nkanu aka Isong No Joke, by the Police.
Vanguard gathered that trouble started when some village chiefs and the youth leader were invited by the Police and later detained over an issue that started sometime in October 2017, when some herdsmen allegedly reported that one of their cows was killed by unknown persons in the community.
It was gathered that their detention irked the community youths, who went on protest during which one of them was shot dead by the Police.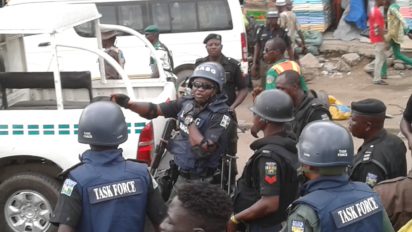 A community leader, who pleaded anonymity, told Vanguard that they thought the matter had been taken care of, but were surprised that the Itigidi Police Division invited their chiefs, including the youth leader.
The source said: "When the chiefs and our youth leader were invited, they honoured the invitation as law-abiding citizens, but were detained and this infuriated the entire community, which led to a protest.
"The youths went on a protest without any weapon or arms; they went to register their grievances over the arrests.
"It shows they have respect for authority and law; it was during the demonstration that Isong, one of the community leaders, was shot dead by Police."
'It's politics'
The community leader continued: "To be honest with you, the matter was politicised because if not we see no reason why a matter about a cow that was shot dead in October 2017 will suddenly come up now.
"They are claiming that herdsmen reported the matter. Those herders are not even domiciled in this area; it is because the Divisional Police Officer is of northern extraction.
"We neither attacked any policeman nor burnt any part of the police station. The building that houses the police station is a rented apartment belonging to an Itigidi man.
"So there is no way the place could have been burnt down as it is being insinuated by mischief makers."
The source also explained that the chiefs and the youth leader were later released at about 12 midnight on Monday, when tension became too high.
Police story
Contacted, the Police Public Relations Officer, ASP Irene Ugbo, said some herdsmen had complained some months ago that indigenes of the Itigidi community killed their cows.
Her words: "The youths got wrong information; they thought the Police at Ugep had taken their chief and youth leader to Calabar, not knowing they were only invited for a peace talk and for the matter to be resolved amicably.
"On that strength, we invited the community leader to make peace. Unfortunately, the youths in the community read a different meaning to the invitation of their community leaders.
"They became restive and threatened to burn down Itigidi Police Station. There was intervention by the Police and, in the process, one person died."