By Ayo Onikoyi
Busty and sexy Nollywood actress, Ejine Okoroafor, who  recently premiered her first self-produced film 'True Vision' has confessed to Potpourri that she's not fortunate with getting romantic treats on Valentine's Day.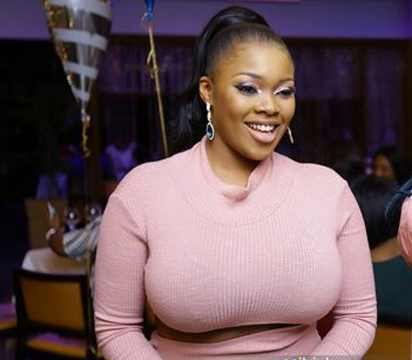 According to her, contrary to people's belief that the most beautiful girls get the best treatment and attention on Val's Day, they are often the loneliest and probably saddest.
When asked if she could remember her most memorable St. Valentine's experience, the actress replied gloomily,"I wish I have" and added tersely "I don't have any, I have not been fortunate with Valentine's treat."
"Val Days are usually a lonely one for me.  I do visit the Motherless Home sometimes. On that day,  People think that the pretty gals are the happiest but no, we are the loneliest ones. But to me love is a beautiful thing. No matter how bad I have been hurt I will love again" she declared.