Dear Bunmi,
I'm 24 years old and up until about a year ago, I had strong views about getting married. I promised myself I wouldn't settle down until I turn at least 28.
But now, my attitudes have changed dramatically and I think I have met the perfect man for me.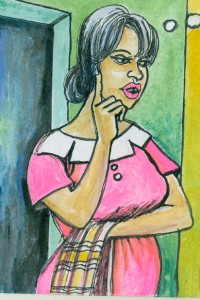 We have been very good friends for about three years and we live next door to each other.
He is in his late 20's and he is good looking, caring and very considerate – in fact he's what you'll call a perfect gentleman.
Keeping my hands off him is agonising. I get jealous if he talks about other women and miss him terribly when he goes away.
He doesn't have a girlfriend and I just can't stop thinking about him. I'm afraid that if I tell him how I feel, it will jeopardise our close friendship. On the other hand, if I don't say anything, how will I ever know if he feels any affection for me?
Should I open up or keep these feelings to myself?
Ufuoma, by e-mail.
Dear Ufuoma,
You really don't have to throw this man to the ground and swear your undying love for him, you know.
Feelings can be displayed without great declaration. Add a new element to the friendship you already have – buy him a lovely decoration for his room for instance, or a book on one of his interests, or offer him a small personal courtesy that will make him look at you in a slightly different way.
Ask his advice about one of your 'problems' or about a new hairstyle. Ask him if he'd like to go to a movie, or somewhere off your usual beaten path. Make a gesture that will place the ball in his court and give him a chance to respond in his own way. Remember, most people do not lead their lives by taking big leaps, but simply by going gently with the flow.