By Innocent Anaba
LAGOS—INDUSTRIALIST and Chairman of Innoson Group, Innocent Chukwuma, has appealed the decision of a Lagos State High Court sitting in Ikeja, ordering his arrest and presentation before it, following a charge filed against him by the Economic and Financial Crimes Commission, EFCC.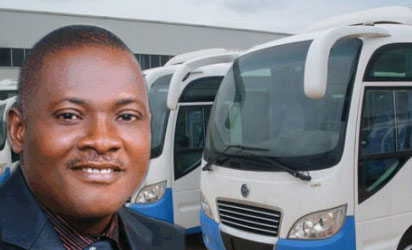 Justice Mojisola Dada of the High Court had on Friday issued a bench warrant on the businessman for his failure to appear for arraignment before the court.
The EFCC had preferred charges against Mr. Chukwuma and his company over allegations of fraud and forgery.
Mr. Chukwuma was, however, not in court for arraignment.
Following application by counsel to the anti-graft agency, Justice Justice Dada ruled that Chukwuma should be arrested and kept in custody a day before the next adjournment and be produced on the adjourned date of arraignment, March 14.
However, in an appeal lodged at the Court of Appeal sitting in Lagos, Chukwuma is seeking the stay of the high court decision and issuance of the bench warrant.
Mr. Chukwuma has also applied to the Lagos State High Court for stay of execution of the order pending determination of the appeal.
Mr J.N. Mbadugha, counsel to Mr. Chukwuma, had during the court proceedings on February 9, before Justice Dada of the Lagos High Court, Ikeja, raised an objection to the court that there was a motion pending at the Court of Appeal to stay commencement of proceedings and execution of the court's order of January 17.
He questioned the jurisdiction of the court to entertain the matter.
Mbadugha also called the attention of the court to the motions pending in the matter, at various courts, informing the court that the 3rd defendant had not been served and as such, the court lacked the jurisdiction to entertain the matter.
Mbadugha consequently asked the appellate court to set aside the decision of the lower court and the bench warrant for the arrest of Mr. Chukwuma issued by the judge.
But it is wrong to stigmatize the Fulani race because of the actions of some of the herdsmen. We must call a criminal a criminal irrespective of where the person comes from. We cannot be calling Igbos Kidnappers or 419ers or Niger Delta people Terrorists or Militants or Hausa people Boko Harams or Fulani people killer Herdsmen because of the activities of few criminals from their areas.
That is the issue. A criminal is a criminal irrespective of tribe or religion. We cannot allow certain sentiments to becloud our sense of reasoning."