By AYO ONIKOYI
Hotshot comedian, fast gaining enviable reputation as a social commentator, Francis Agoda, popularly known as I Go Dye has begged and advised Imo State governor, Owelle Rochas Okorocha to toe the line of honour by removing the Statue of the erstwhile embattled South African president, Jacob Zuma, who was forced to resign from office days ago by his party on allegations of corruption and mismanagement.
I Go dye, who has remained resolute in proffering commentaries and advice on national and international affairs has written open letters to many political leaders, including President Muhammadu Buhari, whom he advised not to run for second term.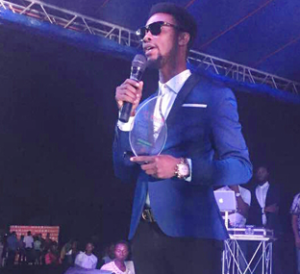 While commending former President Zuma for his courage for listening to the voice of reason, he enjoined the Imo State governor to do same by taking down his statue as a mark of respect.
I Go Dye writes: " For the first time,another African leader has done the needful, by listening to the voice of reason,objectivity and took a bow from service because of the truth. Ex president Zuma has done what is honourable, in spite of all the accolades bestowed on him, I respect him for doing what an honorable man will do.
"It's high time, Nigerian politicians stopped celebrating corruption; they should be mindful of those they adore and honour as their heroes. It takes so much to validate the true reflection of a man,but at all times, integrity should be the bases of all standards.
When we choose to eulogies, bestow awards or build a statue to honour someone as a monument, please let us be mindful that history will subsequently judge us, if really our precision of facts is absolutely without error?
Consequently, I kindly appeal to the donor of a statue in his honour in my home country Nigeria, Imo State precisely, to respect Zuma's courage for stepping down on the grounds of corruption allegations,to kindly remove the statue as a mark of respect to the voices of reason and truth, so that posterity will not judge him as some one who is supporting corruption .
What ever decision, His Excellency, Rochas Okorocha take on this premise; with all due respect to him and his rights; but as a young student of history I am optimistic that those that will rewrite the wrongs and rights of today will remember him standing for or against the voice of truth and reason,by taking pride to speak or act at a time when many will ignore the truth because of personal gratification."