Dear Bunmi,
My boyfriend was evicted from his rented accommodation a few months back and I took him in. His things were still with the bailiffs, but he promised to offset the debts he said he owed, so that he could get his life back.
I recently bought a new car and he offered to help me sell the old one. He offered to take it to a dealer who was also a friend, but has disappeared with the car and a substantial amount of money from my wardrobe.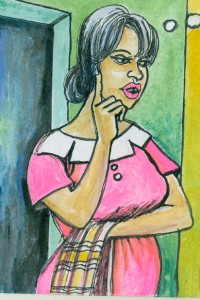 Some of his friends told me a girl has been urging him to move in with her and she lives in another town. He's since changed his phone number and there is no way I could get an explanation off him.
Anita, by e-mail.
Dear Anita,
What's there to explain when it's obvious what he's done? You need to get some emotional support to get you through the shock and grief you feel.
You also need to report your car stolen. This wouldn't do you much good as you voluntarily handed it over to him, but it could help you recover the car. As for the money, that too is gone with the bad choice of a boyfriend you made.
You have no way of knowing things would turn out this way. Count your losses and move on. Only remember that not all men are heartless opportunists.