Some stakeholders in Hong and Gombi Local Government Areas of Adamawa have petitioned the State House of Assembly, calling for the probe of the Provost of the state-owned College of Education, Hong.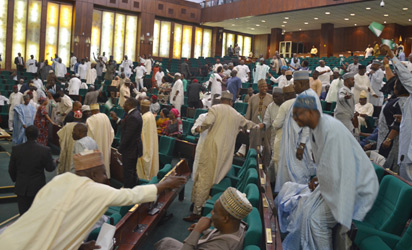 The letter, addressed to the Speaker of the House, accused the Provost, Dr Johnson Pongri, of gross misconduct.
The petitioners, in their letter read on the floor of the House by the Speaker, Alhaji Kabiru Mijinyawa, alleged that the provost misappropriated the institution's funds, appointed principal officers without following due process and engaged in partisan politics.
The petitioners, who addressed themselves as Concerned Citizens of Hong and Gombi local governments, listed their names as Bala Titus, Iliyas Adams, Edward Wilson, Garba Adamu, Mercy Joseph, Jackson Kwabala and Musa Muhammadu.
After reading the petition to members, the Speaker referred the matter to the House Committee on Rules, Privileges and Public Petitions, to look into it and report to the house in two days.
Reacting to the development, the Provost, Dr Johnson Pongri, said he had heard of the petition but was yet to be served a copy.
Pongri, who described the petitioners as a faceless group, said the whole thing looked more like a witch-hunt by those not comfortable with the level of progress in the institution.
"The Governing Council of the institution has not communicated me of any wrongdoing and the summary of the whole petition is that someone somewhere is not happy with the progress in the college.
"I am even surprised the way the petition was hurriedly read on the floor of the house, even when the Governing Council was not served with a copy.
"I have been in public service for a long time and have not been found to commit fraud anywhere; my records in the public service are there for anyone to see. I am open for any kind of investigation but not witch-hunt," he said.
NAN