By JULIET EBIRIM
Recall that last year, Apostle Johnson Suleman of the Omega Fire Ministries Worldwide was the subject of a sex scandal that went viral on social media. But in a shocking turnaround, last Saturday, his accuser, 23 yr-old Miss Stephanie Otobo appeared on the altar of Omega Fire Ministries in Auchi to confess to having been used by "powerful politicians and pastors to implicate Apostle Suleman."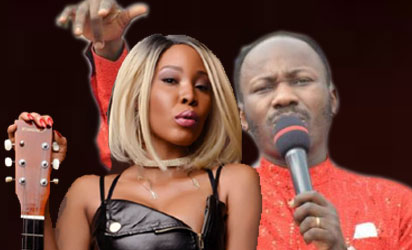 Speaking in the video posted on the church's official handle on Facebook, she said she fell into the hands of powerful politicians and pastors who manipulated her in a wrong way with the intention to bring down the man of God. She confessed she was paid a lot of money by the powerful politicians and pastors."I was made to tell too many lies, I was choking. The burden of guilt was too much for me to carry. If I did not correct this grave sin, I would never have obtained the forgiveness of the body of Christ and even in the life hereafter", she said.
However, there appears to be a new twist to the never-ending story as a pre-recorded video published by Sahara Reporters on Tuesday, has Ms. Otobo, foretelling her confession. In the video, which was recorded on June 21, 2017, Ms. Otobo said she was being pressured by Mr. Suleman to say the government was putting her up to make the allegations against him.
"He is telling me to come and make a video to lie that it's the government of Nigeria that is putting me up to this," she said in the video. "I don't know when you'll be watching this but I'm just doing this video for the future. Today's date is the 21st of June, 2017," she said in the video.
Stephanie Otobo: "I was never forced to confess at Apostle Suleman's church"
Again, in a new video, Stephanie Otobo has said she was not forced to go to Apostle Suleman's church in Edo State to make a confession. She said the video that made rounds was manipulated. In the new video where she spoke with Vanguard, Stephanie said, "I was not lured, kidnapped, forced or paid to confess. I confessed for my own peace of mind and my well-being as a human being. How much can the Apostle pay me that will match what I was paid, and I am still being offered more, by my sponsors?"
Stephanie revealed that she has had sleepless nights for several months over the role she played as the fulcrum of the sex scandal. She also accused her alleged sponsors of blackmail, stating that the well rehearsed video was made as an insurance tool against her in the likely event that she ever exposed the plot by her manipulators. "That video was made in June, 2017 and it was made by my manipulators so that they would have something against me in case I ever told the truth."
Stephanie expressed fears about her security as she vowed to unmask her manipulators in court rather than on social media.
The story so far…
Accusations
Last year, popular preacher and Pastor of Omega Fire Ministries Worldwide, Apostle Johnson Suleman, was at the centre of a sex scandal involving him and a Canada-based night musician, Stephanie Otobo. Also known as Kimora, Stephanie had released a set of damaging snap chat shots on the internet allegedly of herself and the pastor, whom, she claimed, impregnated and dumped her.
Nothing prepared Nigerians for the revelation that greeted them when Stephanie posted an online video detailing the pastor's alleged trysts with her, – kinky sex, being impregnated by the pastor and abortion amid promises of a marriage that never happened.
Stephanie alleged that Apostle Suleman started an affair with her in 2015 after telling her that he was divorced and wanted more male children. Their affair came to a sour end when Stephanie discovered she was pregnant in September 2016 and informed the pastor. She said she lost the pregnancy after she alleged that she was given a concoction to drink by Suleman.
Stephanie was prompted to disclose the account details to prove that she was in a relationship with the pastor who has been denying the affair. In a video clip uploaded online, Otobo presented the document, which showed a series of huge deposits allegedly made by the cleric into her account. It was to back up her claims, that Apostle Suleman had sent her money several times.
Petition
Stephanie had also accused Apostle Suleman, through her lawyer, of failing to keep a marriage promise made to her. She formally filed a petition asking the police to investigate multiple allegations against the preacher. In a letter to the Lagos State Police Commissioner, February 2017, she accused Mr. Suleman of illegal procurement of abortion, threat to life, and attempted murder. Stephanie's petition to the police came days after she told journalists at a press conference that her relationship with Mr. Suleman ended after the preacher began to insist he wanted a sexual activity that involved a threesome.
The climax was when her counsels, led by Festus Keyamo, petitioned the embattled pastor on March 4, and copied the Inspector-General of Police. In the petition, Stephanie alleged that the pastor told her he was divorced from his wife and promised to marry her after meeting with her family for a formal introduction.
Stephanie revealed that she abandoned her lucrative career and properties in Canada because Suleman promised to buy her a house in Nigeria and came back to the country only to be dumped by the pastor. In another letter dated March 3, her lawyers demanded N500 million in damages and gave Suleman a seven-day ultimatum to meet her demands.
Counter-accusations
In a swift reaction through his media aides, the pastor distanced himself from the arrest, claiming that he had never met Stephanie whom he admitted was a prostitute, but who was a beneficiary of his charity works with the full knowledge of his wife.
Absolving the pastor of any wrongdoing, the statement claimed that the lady and her boyfriend had been trying to blackmail him, and the Apostle encouraged them to go ahead and reported the situation to security agents, who eventually arrested her and charged her to court.
On his own, the Pastor had gone on twitter to refute the accusations. "They said I did introduction, will I not meet with her family members if I did? The truth of the matter is that she was hired by some people who are unhappy about my ascendancy, to come from Canada for the blackmail." he said.
Mr. Suleman had also filed a defamation suit against Stephanie in November last year but the matter is being stalled by the later's absence in court.
Stephanie Otobo's mother speaks up
Stephanie Otobo's mother also made some startling revelations on the sex allegations against Apostle Johnson Suleman by her daughter. Speaking to journalists in Sapele, Delta State on Thursday, March 23, 2017, Mrs Otobo said that she had not seen Stephanie in the last three years.
Recall that Stephanie Otobo had earlier alleged that Apostle Suleman after a proposal of marriage went with her to see her father during which an introduction ceremony took place. She later said that the introduction took place at the church headquarters after her father debunked the claim. Stephanie said her mother and siblings accompanied her to Auchi for the ceremony.
But, Mrs Otobo denied accompanying Stephanie to the headquarters of Omega Fire Ministries in Auchi for the alleged introduction ceremony. She revealed that she had never met Apostle Suleman. She also said she had never been to the Omega Fire Ministries warning that "those manipulating her daughter against the man of God would be exposed."