By Onome Amawhe
Economist and Investment Banker, Atedo Peterside spends 400 hours in the air each year. It's not unusual for him to start the week in Lagos, meet with business associates in Johannesburg, pop over to New York  and end the week in London. In his mind, distance is irrelevant; time is the ultimate luxury. So he built ANAP BUSINESS JETS, a private jet luxury brand, on this single premise. His target demographic? Ultra-wealthy executives and entrepreneurs like him. That kind of decisiveness is precisely what makes Peterside an efficient, no-nonsense business leader. Since founding IBTC at age 33, and then driving the then little financial institution through IBTC Chartered and then anchoring as the now universal Stanbic IBTC, AtedoPeterside is certainly the  living dream of any aspiring business executive. With  all his hard work paying off, Peterside constantly stands out from the rest and the  tremendous experience gained gave him what he needed to become an effective business executive: ability to handle long hours, willingness to take risks, a solid understanding of business issues, the drive to always score a deal, and an enormous amount of grit. Not resting on his laurels, as he steers ANAP BUSINESS JETS to another level of growth, he continuously searches for opportunities to further his own; whilst setting his sights on making "a lasting contribution to the upliftment of Nigeria, Nigerians, Africa and Africans in general."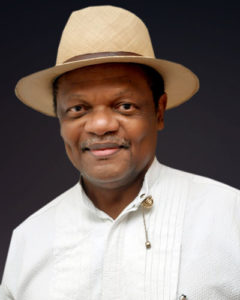 How did you make the leap from banking to Business Aviation/Private Jets?
Many years ago, a Professor at Harvard Business School, who was familiar with my bio data, asked me to describe myself. I said I was an Economist and an Investment Banker. He corrected me and said I was an entrepreneur first and foremost. He said, if you were the founder of an investment bank at age 33 and the largest single shareholder in the bank (IBTC) then that makes you an entrepreneur. In truth, I have invested in many different business ventures. ANAP Business Jets Limited (ANAP Jets) stands out a little because, like investment banking, it is a service sector activity and it is branded and so people can only relate to it and/or identify with it properly when they know who the founder is or "who is behind it" as Nigerians say.
At ANAP Jets, our flagship product is Fractional Ownership of Private Jets and so we are at the intersection between Finance and Aviation. We offer our clients virtually all the benefits of private jet ownership whilst taking away the hassles and burden of ownership because we (ANAP Jets) manage the fleet of aircraft in an operational sense and so our clients only need to pay up and fly.
When was your first time on a private jet, what was it like, and how did you feel?
I think it must have been in the early 1990s and it was a private jet owned by Shell or operated on behalf of Shell. At the time, I was the CEO of IBTC and we were financial advisers on a transaction involving Shell. We were going from Lagos to Abuja for the same meeting and so they (Shell) asked me to go with them in their private jet.
It felt great because of the simplicity, reliability, functionality, predictability etc. These are the exact same attributes that clients of ANAP Jets enjoy today. Sadly, air travel within our sub-region has historically been a bit of a nightmare, largely on account of its unpredictability and unreliability. A few of the newer carriers are more efficient now, but they face a hostile and overly expensive regulatory environment.
Take me through the trajectory of the Anap Jet business from inception to growth – and what is the size of the company now, projected growth, and target market?
Our target clientele has not changed – Corporates of good financial standing and high net worth individuals who acquired their wealth legitimately. ANAP Jets will not do business with a drug baron or a money launderer. It might sound strange, but that is the reality and all our staff know that and the market also knows that. We are a private company and so we are not obliged to publish financial information about ourselves. It should suffice to say that we expect to grow steadily and conservatively year after year until we attain market dominance.
How has the market for private jet charter evolved since the launch of ANAP Jets?
Markets evolve all the time. We were not responsible for the evolving market. Rather, we responded to the evolving market. There has been a gradual and steady shift by the market in the direction of cost-effectiveness. Many of our Fractional Owners can afford to buy a private jet 100% but they won't because they are business savvy and understand that their modest regional aviation needs are better served by buying a 1/4 (one-quarter), 1/8th or 1/16th fraction in an ANAP Jets aircraft.
With on-going whispers that global long-term spending on private aviation has started to slow, what are your thoughts on concerns that the economic instability in Nigeria may affect your target market, and impact on the business in terms of demand?
Global trends or averages arise from an aggregation which often obfuscates. If you disaggregate the data, you will see that Business Aviation is growing in Africa, but shrinking in Western Europe. Common sense dictates that Aviation will grow in those geographical areas where major urban centres are far apart (e.g. USA and Africa) and shrink where major urban centres are near each other (e.g. Western Europe). In Western Europe, high-speed trains should displace air travel. In Africa, the distances between major urban centres are so large that aviation has to be the preferred mode of business travel for a very long time.
How big a market is Nigeria for private jet travel? 
The market here is not big. It is a myth that has been perpetuated by a few noisemakers. Nairobi, for instance, is far busier than Lagos or Abuja, in terms of private jet flights flying in and out of a single city. Kenya is a tourist centre and so they attract many more safari visitors than Nigeria which attracts pure international business travellers.
How does Anap Jets differentiate itself from other private jet providers?
As far as I know, we are the only ones that offer a Fractional Ownership platform in Africa. Others only sell block hours. We offer both Fractional Ownership and block hours via our Legacy Jetcards + spot charter. ANAP Jets aspires to provide the most appropriate financial arrangement that suits each client. Many aviation companies shy away from offering alternative financial arrangements and so they try to impose a single financial structure or arrangement on everyone. Perhaps, their knowledge of finance is not as deep as ours? Like I said earlier, ANAP Jets sits at the intersection between Finance and Aviation.
Looking ahead, what are the emerging growth areas and opportunities that you would like to capitalise on in the future?
I might have considered the domestic airline business, but the authorities have made it unviable by heaping multiple taxes and levies on it. Our inefficient airport infrastructure and outdated regulations and cumbersome security procedures also burden the domestic airline operators with needless costs that are unheard of elsewhere.
Every successful entrepreneur has encountered failure. Can you give me an example of a previous failure that became a life lesson leading you to success in your business life?
It might sound strange, but I thank God that one of my earliest investments in a private company turned out to be a money loser – I bought 1% of a company called Harris Broadcast Systems Limited. It was the Nigerian subsidiary of Harris Corporation of the USA. I learned my lessons and moved on from there. IBTC was a big success story as an investment bank. I later went into Stockbroking via an IBTC wholly-owned subsidiary and became very successful there and then we went into pensions and became market leaders there too. Most of my other personal investments (including forays into property and manufacturing) have also gone well. It would suffice to say that I am a very cautious investor and so cynics are correct when they say Atedo does not lose money because he says NO to most investment proposals and opportunities. It is true that I have said NO to a few proposals that later turned out to be good, but then I was taught, as an investment banker, not to worry about the good deal that you might have turned down, but to instead focus on the bad deal that you might have said Yes to.
What are your best memories of your career in the banking sector? Was it a difficult decision to leave? 
I have been a Non-Executive Director on the Board of both Standard Bank Group Limited (parent company to Stanbic IBTC Holdings Plc.) and The Standard Bank of South Africa Limited since 2014 and so I do not think it is correct to say I have left banking. Standard Bank is the largest bank in Africa by total assets and so I am amused when I see the Nigerian media writing that I have left banking. What they mean to say is that I left the board of Stanbic IBTC, where I spent 28 years in total from inception in February 1989 until end-March 2017. Is eighteen and a half years as founding CEO followed by nine and a half years as Chairman not enough? How or why should it be difficult to leave after 28 years? If after 28 years you still do not have a succession plan and so you find it difficult to leave then you must be "sick".
So, what's next for you?
I am now at a stage in life where I only do what I enjoy doing. I am not interested in posts and positions, nor in the accolades that come from people knowing what I do. I am more interested in making a lasting contribution to the upliftment of Nigeria, Nigerians, Africa and Africans in general. My definite bias is in favour of helping our youths to grow, because the Nigerian society has been rigged against our youths for far too long.