By Omeiza Ajayi
ABUJA – The National Rescue Movement NRM has condemned the ruling All Progressives Congress APC for what it described as the gross resort to underhand tactics to armtwist the opposition into silence ahead of the 2019 general elections.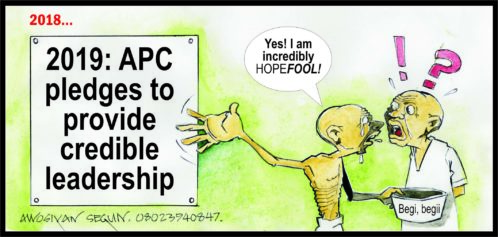 In a statement issued Monday in Abuja, National Publicity Secretary of the NRM, Prince Chinedu Obi said the party "condemns in strong terms the action of the Kaduna state Government for demolishing the secretariat of a faction of APC in Kaduna metropolis led by Sen. Suleiman Hunkuyi".
It said; "by this action which looks like a rehearsal, the NRM sees the ruling party at both the Federal and States it governs, of their intention to intimidate opposition even within its ranks by using security agencies to capture power in 2019 by all means".
The statement added; "This action of the Kaduna state Government is repulsive and excessively vindictive. It beats the imagination of any responsible person that in a democratic dispensation, the most readily available punishment for ground rent contravention is revocation and demolition of landed properties of fellow party member for no offence but exercising his rights as granted by both the party and the nation's constitution. One wonders the extra impunity that would be deployed when it involves a completely different political party.
"There is something defectively abnormal with a government that could not prosecute someone in a court of competent jurisdiction when he or she contravenes the law. The reasons being advanced by the state government are not only laughable but an attempt to defend the indefensible".
NRM consequently urged Nigerians to be alert to the dictatorial tendencies of elected officials who are nursing second term ambitions, and rise to halt them in their tracks.