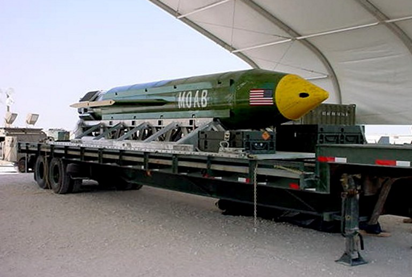 FILE PHOTO: Undated file image courtesy the US Air Force shows the GBU-43/B Massive Ordnance Air Blast (MOAB) bomb sitting in an undisclosed location in theater of the Global War on Terror waiting to be used. The US military on April 13, 2017 dropped what is considered to be the largest non-nuclear bomb on an Islamic State complex in Afghanistan, the Pentagon said. The GBU-43/B Massive Ordnance Air Blast bomb hit a "tunnel complex" in Achin district in Nangarhar province, US Forces Afghanistan said in a statement. / AFP PHOTO / US AIR FORCE / Handout / RESTRICTED TO EDITORIAL USE – MANDATORY CREDIT "AFP PHOTO
US President Donald Trump on Tuesday warned Kim Jong-Un that he possessed a nuclear button that is "much bigger & more powerful" than that of the North Korean leader.
He tweeted: "North Korean Leader Kim Jong Un just stated that the 'Nuclear Button is on his desk at all times.' Will someone from his depleted and food starved regime please inform him that I too have a Nuclear Button, but it is a much bigger & more powerful one than his, and my Button works!"
Trump's message came after Kim used his annual New Year address to warn he has a "nuclear button" on his table, but sweetened his remarks by expressing an interest in dialogue and taking part in the Pyeongchang Games next month.
South Korea responded positively Tuesday, proposing high-level talks with Pyongyang on January 9.
But US envoy to the United Nations Nikki Haley dismissed the proposed dialogue between the Koreas as a "band-aid," warning that Washington would never accept a nuclear-armed Pyongyang.