Dear Bunmi,
The girl I love most in the world has just broken my heart not by being unfaithful, but because I have just discovered she is a thief. We have been together for 18 months.
The last time I was in her room, I curiously looked through some of her drawers because I'd been baffled by series of missing items in my place. I was really sad when I found a gold chain my mother gave me, a gold ring I bought the last time I travelled and a couple of expensive cuff-links in her drawers.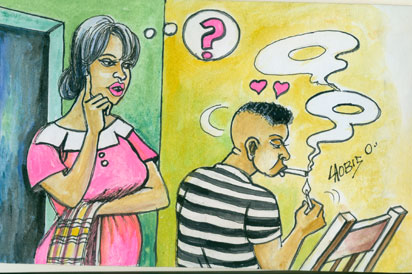 When I showed these items to her, she burst into tears and begged me to forgive her. I wanted to know if she'd taken monies that were always missing from me and my younger brother, who lives with me and she confessed she had. As far as I am concerned, I can't move with someone I can't trust but she has started to make a nuisance of herself by begging me to take her back and sending friends to plead with me. I don't want to tell these people what she did as it is strictly between us. What do I do?
Francis, by e-mail.
Dear Francis,
You are right to make your problems as private as possible, especially in a delicate matter such as this one. It is a fact that when a relationship is based on deceit, the foundation crumbles.
You obviously cannot trust your girlfriend and you should let her know the reason you no longer feel comfortable when she's around. A supposed girlfriend, who robs both you and a younger brother should be avoided at all costs.
If she still pesters you after you've been honest with her, then tell her you've found someone else. That might just do the trick if she has any pride!.