Allocates 95,000 slots to Nigeria for 2017 hajj
The Saudi Arabian Minister of Hajj and Umrah, Dr Muhammad Bin Taher-Benten has  commended the National Hajj Commission of Nigeria (NAHCON) for the wonderful outing of Nigerian pilgrims during the 2017 Hajj.
The Saudi minister of Hajj spoke at a ministerial meeting held with a delegation from Nigeria and Saudi Arabia in Jeddah. It was also gathered that a total of 95,000 slots had been allocated to Nigeria for the 2018 Hajj.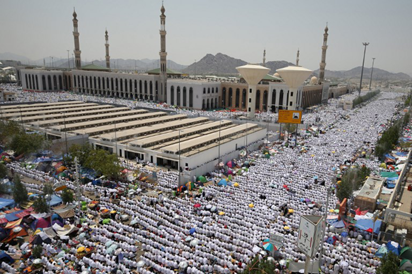 Nigerian delegation was led by the Minister of State for Foreign Affairs, Khadija Bukar Abba Ibrahim and NAHCON executive led by its Chairman, Alhaji Abdullahi Muhammad, and Nigeria's Foreign Missions in Saudi Arabia led by Amb. Isa Dodo.
The Saudi minister also listed NAHCON among the most organised and law abiding Hajj missions during the 2017 Hajj operation.
On Hajj operations in the Holy Land, the Saudi minister said efforts were ongoing to ensure hitch free 2018 Hajj.
To this end he said the Saudi authority had taken measures to improve infrastructure, especially in Muna, in line with its Vision 2030 plan to cater for the increased number of pilgrims worldwide.
He also promised to address all requests made by NAHCON for better service delivery to pilgrims in the upcoming 2018 Hajj.
Earlier, the leader of Nigeria delegation, Ibrahim, while reviewing the 2017 hajj, observed that the tents provided for Nigerian pilgrims in Muna were inadequate, adding that there was the need to address the issue before the 2018 Hajj. She, however, applauded efforts of the Saudi Authority for the successful hosting of over two million pilgrims without any major incidence in 2017.
The minister of state also condoled with the Kingdom on recent attempted missile attacks on its territory and reiterated Nigeria's stand against all forms of terrorism.