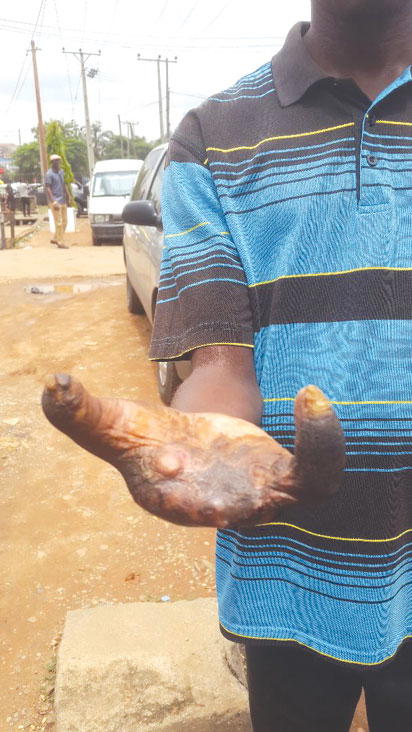 A 40-year-old man, Festus Oluchi Opara, a machine operator with Tower Aluminium Nig Plc, Ikeja is a sad man. When he woke up early in the morning on March 30 2015, he was bubbling with energy ready to go to work.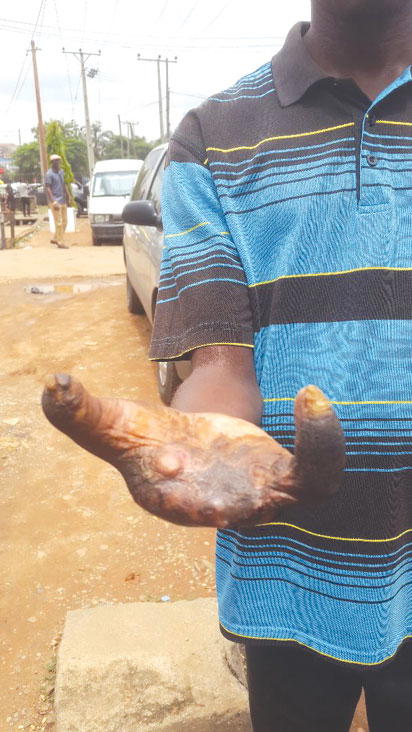 He arrived his place of work with excitement but within a few minutes at his duty, he became a different person due to a faulty machine he was operating. His right hand got trapped in the machine and for about one hour, his colleagues battled to set him free by loosening the nuts and bolts from the machine. He was in excruciating pain and saw himself dying slowly.
By the time he woke up on the hospital bed, three of his fingers had been amputated by a doctor he believed had no human feeling. He has therefore taken his case to the Industrial Arbitration Court, Ikoyi seeking redress.
His story:
"I was born Festus Oluchi Opara on the 10th of February 1978. I completed my secondary school education in 1993 but as one of seven children from a very humble background, I couldn't go for further studies as there was nobody to train me at the time. Then I started to work.
At first I worked with WAHUM from 1995 to 2004. I worked in the factory and then later as a security man and I was able to assist my aged parents, myself and my family. On the 14th of June 2004, I was employed by Tower House Wares, a division of Tower Aluminium, Nigeria PLC at Ikeja, Lagos.
Employment history with Tower Aluminium
I started work in Tower Aluminium in June 2004 as an Assistant Store Keeper. In this role, I worked in the store, loading finished products into customers' lorries. I did this job to the best of my ability and the company seemed to be satisfied with my performance. On the 24th of February 2010, I was transferred to the Production Department with greater responsibility. I started to operate machinery used to produce the cover of cooking pots. I received no training for this role but I learnt to operate the machine by observation of senior workers. The name of this machine is press lid machine. I operated this machine from the day that I started working in production in 2010 till the day of the accident that resulted in the loss of three of my fingers on my right hand.
The accident
On the 30th of March 2015 I went to work in the Production Department as usual. I was assigned a machine to work with and although the machine had been faulty the previous week, it was certified to be in good working order by the head of Maintenance and the Manager. However, when I started operating the machine on that day, the pressure failed.
I then proceeded to observe the machine as was the practice in the company. I followed all procedures I had observed in the past but when I touched the pin, my fingers somehow became trapped by the fly wheel gears of the machine. The fly wheel gears have covers on them and come from the manufacturers closed, but have always been left open by maintenance.
My fingers were trapped in the fly wheel gears and I was in excruciating pain. I was trapped for about 50 minutes to one hour while my co-workers and people from the Maintenance Department were loosening nuts and bolts from the machine to set me free. During this period, I was deeply traumatized by the pain, the experience and fear that I was dying a slow and painful death.
Eventually I was set free and taken to Adefemi hospital in Ikeja and admitted there on the same day.
I was later to learn that a few days after the accident, the company covered the open fly wheel gears of the machine.
An officer from NLC (Labour) Lagos who visited me in the hospital, stated in my presence and in the presence of staff of the company that a major factor that resulted in the injuries I suffered, was because the fly wheel gears were left open. This was said in the presence of the Personnel Manager and the Head of Maintenance that there had been a general concern about the age of the machines expressed by workers even before my accident.
Hospital Treatment
On arrival in the hospital, the wound was cleaned and I was given some injections while an x-ray of my hand was taken. No one from my family was contacted, not even my next of kin. Under general anaesthesia I was operated upon. When I gained consciousness, I was shocked to discover the extent to which my fingers had been amputated.
The doctor who operated on me was dismissive and very cavalier in his attitude towards me when he told me that I was fortunate that he could have cut off my whole hand.
I was admitted in the hospital on March 30 2015. My sister came and stayed with me in the hospital assisting me during this period. Skin grafting was carried out on May 15 2015. The skin grafting was very painful and very sore for over three months. I tried to communicate my pain and experience to the doctor but he was dismissive. I was discharged on July 3 2015.
The doctor wrote to my employers telling them that I was fully healed and fit to go back to work even though this was not the case as my hand was clearly not healing properly.
When I resumed work on 12th of May 2016, it became clear to all who saw me that the wound was not properly healed over a year after the accident.
The Company expressed willingness to take me to an Orthopaedic Specialist for treatment but the doctor refused to provide a medical report of my treatment so far or write a referral to allow me continue treatment elsewhere at an Orthopaedic Specialist hospital
The Injury
Three fingers on my right hand were badly amputated. Two fingers were displaced from the joint while the fourth finger still has a bone growing out after the amputation. The wound continues to swell and is sometimes very painful. A doctor friend of my family who examined it expressed serious concerns about the wound. Another reputable doctor who spoke with the MD of Adefemi hospital and who interviewed me over the phone also expressed serious concerns about the treatment I have received so far.
The Impact on me now
Although the company has been paying my hospital bills so far and has not dismissed me from the job, I am apprehensive for my future in the job. Presently, I can no longer carry out simple everyday tasks. For example, it is very difficult to give myself a proper bath as I used to. My ability to live independently of people has been very seriously impaired. I can no longer do the job I used to do.
My hand remains very sore and swells up often. I am deeply traumatized by my experience and have often had nightmares about it. I am also very anxious about the possibility that the injury can deteriorate and cause me other health problems. Because of my circumstances I did not get much education. I worked all my adult life as a low level manual worker and in that way I supported myself and my family.
I worked very hard all my life and have gained many years experience in factory work. But now because of this injury, I can no longer use my experience to secure employment. I am no longer in a position to earn money for myself or to support my family. Rather, I now need help from people which I did not need before. I am very worried about my future. I have no savings and can no longer work in my situation. I don't know who will take care of me in future.
I am also very distressed when I look at the hand as I remember everything all over again.
What I want now
*I want my injury to be examined by independent medical experts to determine if the treatment I have been receiving so far is appropriate and adequate.
*Also to help me understand better what kind of medical treatment I will need in future or other possible health complications that I may face as a result of this injury.
*I want the independent medical expert to be chosen without the company being involved so as to make sure that they are objective. However, I want the company to foot the bill.
*I want the company to foot the bill of any future treatment I will require as a result of this accident.
*I want the company to compensate me financially to enable me take care of myself now and in the future as I am now in this situation.
*I want the company to compensate me financially with N50 million for the fact that I have lost my ability to earn money, and for the trauma I suffered and continue to suffer.
*I want the company to provide me with a prosthetic hand, to pay for the purchase and fitting of the hand and all other associated costs so that I can carry out simple everyday tasks for myself and try to live as independently of people and as normally as possible.
*Where it is discovered that the hospital did not carry out proper treatment I want compensation from the hospital as well.