…Says Gov Okowa has done nothing for Itsekiri nation
…Warri dead under current PDP govt in Delta
…Maintains Itsekiri not against Maritime varsity, but Ijaw should do the needful
Emma Amaize, Regional Editor, South-South
THE  Ologbotsere (Prime Minister) of Warri Kingdom, Chief Ayirimi Emami, has lamented that the current Delta State Government, led by Governor Ifeanyi Okowa, has allegedly neglected the Itsekiri ethnic nationality in terms of development in the last two years.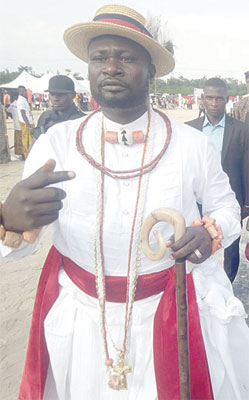 Chief Emami, who spoke to Saturday Vanguard at his Warri residence, said: "For instance, all the schools in our areas are being abandoned by the current government of Delta state. Like I told you, Itsekiri people will continue to support the government that has their interest in their agenda.
" As at today, if you go to the ancestral home of Itsekiri people, there is nothing to write home about the place and one will be surprised at what is happening.  Several projects from former governors James Ibori and Emmanuel Uduaghan are located in Itsekiri areas, but for the past two years and more, there is no one project in Itsekiri area that the governor of Delta state can point to that he continued or started," he asserted.
Asked if he was accusing the current state government of abandoning the Itsekiri people, he thundered: "Very correct, I am saying that he does have a development plan for the Itsekiri, I say it categorically and I want anybody to challenge me."
"Well, some people will say that Ologbotsere is not supposed to be a politician, but I will tell you that the king (Olu of Warri ) and Ologbotsere are supposed to be embodiment of politics in Itsekiri nation because they know the best for the Itsekiri nation for they are sitting at the helm of affairs.
I challenge Okowa
"I really want to challenge the Governor of Delta state that if there is anything that he has done or has contributed to the Itsekiri nation in the past two years, he should come out and say it," he added.
Sounding cheerless about the state of Ode Itsekiri, which is the ancestral home of the Itsekiris, he said: "He (Okowa) voted money for the road connecting the villages, but it is all political because the actual part of the job was done by Uduaghan, they have already laid the foundation.  However, they have not done anything. Take the Ubeji road, sometimes I do not want to get personal because Uduaghan would have finished that road if not for some persons in the community, but let us even say that this is the only project that he is even working on, but no way.
"If you want to go to Jakpa and other parts of Warri North, there is nothing to show, part of the Delta State Oil Producing Areas Development Commission, DESOPADEC, housing unit that I saw during my visit to Jakpa, there is nothing to show too. Do you want to go to Ugborodo, nothing there.
"And that is why he cannot come to hold his town hall meeting in Itsekiri area, but I do not even blame him, it is those in his government that are actually bringing Itsekiri low before him," the prime minister stated.
Has there been any formal complaint to the governor on these issues? Our reporter asked.
He responded: "I do not see anybody that will complain because a lot of people, because of stomach infrastructure cannot make any criticism. Because of stomach infrastructure, a lot of them are dying, they are not happy, but they cannot speak and you do not expect the Olu to be shouting over this at the moment because he is the father to all."
He advised    Itsekiris working with Okowa, especially those in PDP to have a rethink on where they were going to, pointing out that Ijaw people have reason to be in PDP, but with the present configuration of Okowa government, two commissioners that are not strongly reckoned with, they have no reason being there.
"What they use them for is to cause confusion in Itsekiri area, any day that Okowa wants to cause confusion in Itsekiri land, he sends them. So if you are saying the truth, they will send those they employed for stomach infrastructure to come and challenge you," he said.
He, then declared that, "As the Ologbotsere, it is my duty to say it, if today, Okowa does what is good for the Itsekiri people; I will equally come out and say it. If he is doing any good thing for the Itsekiri people and is attending to the Itsekiri nation, I will say it."
Neglect everywhere
According to him, "the issue is not Ayiri being an All Progressives Congress, APC, person, I am talking about ethnic nationality, there is nowhere you will see Okowa's presence in any of our communities. As at today, we are working seriously at Ode-Itsekiri Secondary School, if you get there, fantastic structures put on ground by DESOPADEC under Uduaghan administration, but the staff quarters are not furnished."
"So the teachers cannot live there, I actually provided the boat that conveys the pupils to school, but I found out lately that it was not profitable to the people, not the cost. My discovery was that the teachers and pupils come to school by 10.00 am, they leave from Warri, the boat is positioned at Ugbuwangue, they drop some students at Orogbo, around 10.30 am and by 1.00 pm, they say the school has closed for the day.
"Calculate the hours when in Warri, schools resume by 8.00 am and close by 3.00pm, are you telling me that they are learning anything? So we decided on our own to go on self support, I have already created a committee to ensure that the school is functional even if the government as it seems, has abandoned Itsekiri people.
"What is happening in Ode-Itsekiri is what is also happening in Benin River, but I have a center in Benin River, which is Gbokoda. The only projects you can find ongoing there are the projects awarded by Omatsuli Tuoyo when he was in the Niger Delta Development Commission, NDDC.
"Immediately we finish with Ode-Itsekiri school, we will move to Gbokoda, that is what we are doing and same thing is happening in Ugborodo. After politics, there should be governance, but I think that after politics, he is still playing politics," Chief Emami said.
According to him, "I do not know about other ethnic nationalities, but there is nothing I can point to in my place that Okowa is doing as the Ologbotsere of Warri kingdom."
FG should also wake up
He added: "The same thing I am telling Okowa is what I am telling the Federal Government, the Gas City and Deep Sea Port projects need to be done, they should come and do it and I told the Minister of Transportation, that I know that Itsekiris are enjoying security under Buhari, but there should be things to show that the federal government did XYZ in our area for people of Delta and Nigeria at large.
"It is not just for Itsekiri people, one cannot point at anything, even the oil city of Warri is dead under Okowa. Or is anybody going to contest that, I say that Warri is dead under Okowa in terms of economy and development. People are relocating day and night from Warri because of the difficult times under Okowa," he said.
Itsekiri better under Buhari
On his position that Itsekiris were faring better under President Muhammdu Buhari government, he said, "I still maintain that Itsekiri people have fared better under President Muhammadu Buhari than former President Goodluck Jonathan. Under Buhari government, Itsekiri people are sure of peace, for instance in the past two years under Buhari, how many killings have we witnessed, but it was reckless under Jonathan."
"A local government election was just held in Warri North, did you hear about any killing, but they agitated. They met with the governor, they sat down, they discussed like normal human beings. There wasn't any killing, but if it was under Jonathan government, they would have killed two or three persons because they wanted to be local government chairman.
"One must agitate but it should not involve killing and burning of communities, which amounts to lawlessness. So I am still saying it, we are better under Buhari because when the Itsekiri man has peace, what to eat and what to do will not be a problem. So I still maintain that security is important to Itsekiri people and they are more comfortable with any administration where they find security," he asserted.
NMU: I don't see any tension between Ijaw/Itsekiri
Commenting on the tension between the Ijaw and Itsekiri over the name of the site of the Nigerian Maritime University, NMU, Chief Emami said: "I do not see any tension over the name of the site of the Nigerian Maritime University, NMU. What the Attorney General of the Federation, AGF, did is not new to me; it is what is supposed to be done in any civilized society."
"They are saying go there, go there, the place is developed, they should show me the picture of 1996 before the crisis when Itsekiri villages were burnt and the illegal bunkering,    kidnapping and government fund that were stolen have not been used overnight in developing their area.
"Those places have their traditional names; it does not mean for example that the Hausa cattle men that stay at Ugbuwangue Market, Warri, own market because they are more there. People gave it to them, the Itsekiris are not saying they should leave, we are brothers, we inter-marry, but the institution and culture should remain like that. Not that when you now have high population in the areas you now say you are the owner of the place. Going to court was because there was dispute over the areas and judgment was given based on evidence and until we respect the rule of law, we are going to continue having restiveness. But we believe in this administration, my position is that give what belongs to them and give Itsekiri what belongs to them.
"I want to emphasize that Itsekiri is not against the university, some of these things we are seeing happening now were among the reasons it looked as if I was kicking against the university because I know that there was ulterior motives in some of the things despite that the outlook appear genuine.
"If you look at the map, we have been naming communities and it does not apply to them alone, even the Urhobos in Warri. They have been trying to rename some places that have their original name from onset. In Okere, we used to have Idimu Usobo. Idimu Usobo means that this is where the Urhobos are staying, these are parts of the quarters in Okere, but today it is a kingdom. However, we are brothers and sisters. When I want to call them, I call them Idimu Usobo, but they call themselves Okere-Urhobo, you understand.
"So, Okerenghigho issue is not a new issue. If you go to the map, those areas are called Okerenghigho owned by Omadino people. You are fishermen and these places were given to you to fish and it should not mean that you own the place.
Why Ijaw has not created crisis in Edo
That is exactly what is happening in Benin now, but because the government of Edo state is firm and they see that the government is firm, that is why they have not created any crisis in Edo. However, once they find a weak state government or federal government that is weak in terms of security, you will see that Gelegele will be a problem.
"Immediately Governor Godwin Obaseki suggested there was going to be Deep Sea Port to develop the area, you begin to see crisis and that was exactly what happened in Ugborodo when they came up with the issue of the Deep Sea Port and some of us went to court. We do not need to take laws into our hands, but nobody has monopoly of violence, everybody knows his capacity, but that does not mean we should encourage lawlessness.
"The AGF has advised the National Assembly, if the National Assembly does the wrong thing, we will go to court. But one day, all these injustices will be corrected because in Nigeria, the rule of law must come to play," he stated.
Nobody is asking Ijaw to leave
Did the Itsekiri reside in these areas before and sacked by Ijaw people during the crisis or what are you saying? The Itsekiri prime minister asserted,  "No, these places were allocated to Ijaw people and at a time before 1996, rent was being paid and there is evidence, if you come to my place and say you want to farm in my yard, that does not mean that I will come to stay with you in the yard. I do not know if you understand, these are people who were moving from one spot to another, but any camp you go to, you pay rent to your landlord and that was exactly what they were doing until the crisis."
"Like now, we are saying Chevron Nigeria Limited, CNL, is our tenant, are we saying that we own the infrastructures that the oil companies have built or are building there, we have allowed it for them to stay, but because they built massive facilities, including air strip, do we say it is Chevron community, that they own the place? So, some kind of examples they give, that an Anglican Church there was named after Okerenkoko are childish. That they have these houses and all that is not the issue, the issue is that the law must be respected.
"Nobody is asking you (Ijaw) to pack, we even want you to develop more, but you must be doing the needful to the owners. For instance, we know Gbaramatu clan, you see the Pere of Gbaramatu and you know his area, but as at today, the Pere of Ogbe-Ijoh will say he is Pere of Ogbe-Ijoh, Warri Kingdom, which is lawlessness. There is an institution known to law created by government – Olu of Warri, but when they are doing all these things, nobody is talking and tomorrow; somebody can say that you cannot answer that name; you will start to say oh, this is what we have been answering.
"You see they see themselves as above the law, but I think that a time will come in this country, where the law will count and it is going to come gradually. Things that you use to do before now, you cannot execute them again. So violence cannot be the order of the day. Talk genuinely, send teams, make your claim and do not make threat that the AGF is trying to cause crisis between the Itsekiri and Ijaw," he added.
My plan as Ologbotsere
He said: "I have various plans, as a young man, I know that a lot are happening to the Itsekiri people and as the Ologbotsere of Warri, I want to use the position to rebuild the Itsekiri nation and to do whatever I can for the progress of Itsekiri people. Secondly, the Ologbotsere is the number two man in supporting the Olu of Warri , so I am like the executor of the ideas and agenda of the Olu of Warri, I will definitely use the position to win more friends for the kingdom, win more support and investments for the kingdom."