By Dirisu Yakubu
THE Peoples Democratic Party, PDP, yesterday demanded the immediate resignation of the Minister of Transportation, Rotimi Amaechi from the Federal Executive Council, FEC.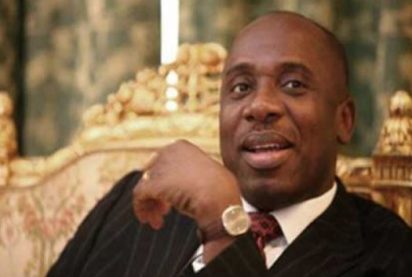 The PDP, which premised its call on the appointment of Amaechi as the Director-General (DG) of President Muhammadu Buhari's 2019 re-election campaign, also accused the ruling All Progressives Congress, APC, of being insensitive to the plight of Nigerians.
"If APC has any strand of dignity, then Amaechi must resign as the Minister of Transportation having been appointed and already functioning as the DG of President Buhari's Campaign.
"Under the constitution of Nigeria, Mr. Amaechi cannot combine the job of a Minister of the Federal Republic with another responsibility such as the DG of a campaign organization.
"Amaechi's action in accepting the job while still holding office as Minister is in clear breach of the oath of office and the oath of allegiance, which he swore in line with the provisions of the 1999 Constitution (as amended). He should therefore resign his office as minister with immediate effect", read a statement signed by the PDP National Publicity Secretary, Kola Ologbodiyan.
The party stated that Amaechi, perhaps in his desperation for recognition, has already began to function in the capacity as mobilizer for Buhari's second term, adding that, he had already held meetings with some of the governors elected on the platform of the APC.
It recalled that when as a serving Minister of Works, Chief Tony Anenih was appointed to head the campaign of then President Olusegun Obasanjo, the former resigned his cabinet appointment.
Accusing incumbent administration of being insensitive to the plight of Nigerians, the party expressed shock that the APC is more interested in setting up an electoral structure for a second term when Nigerians are dying daily of hunger and poverty while others are being slaughtered in their communities by marauders across the country.
"Is it not instructive for Nigerians to now know that the APC has not the littlest agenda on governance for our people and do not have the interest of Nigerians at heart? They have shown that all they care for is their selfish political and pecuniary interests", the party said.