By Festus Ahon
ASABA—SPEAKER of Delta State House of Assembly, Chief Sheriff Oborevwori, has told Deltans to keep hope alive in the new year,   saying: "Better days are ahead for the state."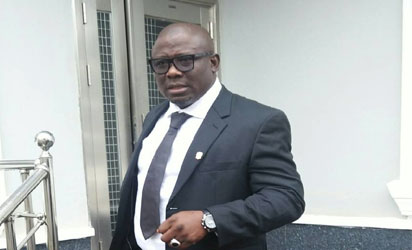 Oborevwori, in a his New Year message to Deltans, issued by his Chief Press Secretary, Mr Dennis Otu, expressed gratitude to God for ushering Deltans and indeed all Nigerians into the New Year.
He said Deltans should expect a more robust legislative year in 2018, noting that the Assembly had a lot to offer the people of the state in the New Year.
The Speaker said: "My fellow Deltans, in this New Year, we should keep hope alive. There is hope for our dear Delta State and so we should keep hope alive.
"Our state is going to remain on top in 2018. The future is bright for Delta State.  I want to commend Deltans for their unalloyed support so far.
"Better days are ahead for Delta State. As lawmakers, we will continue to put in our best in all that we do. We will remain committed to the welfare of our constituents. Delta State House of Assembly under my watch is very vibrant and it will continue to be so.
"Several bills were passed and signed into law last year and in this New Year, we are going to make more laws for the benefit of our people and to achieve this, we need the support of our people more than ever before."
The Delta State House of Assembly will continue to count on the support of all Deltans.
"In this Year New, all   hands should be on deck to make our State great and envy of others. I wish all   Deltans a Prosperous New Year", commending the State Government for giving Deltans a better deal in the last two years.
While promising that the cordial relationship between the executive and the legislative would be sustained, he said "the State Government has done so well and should be commended. The executive and the legislative will continue to work on same page for the betterment of our people", he said.
"Despite the harsh economic situation in the country, the state government was able to meet its responsibilities to the people of the state in 2017, this is laudable.
"I am optimistic that the New Year is going to be more Prosperous for our people", urging Deltans to continue to pray for those piloting the affairs of the State for divine direction.