Ebonyi state governor David Umahi has distributed gifts to 300 elderly persons and 4, 300 widows as their Christmas package.
The Governor said that these categories of persons were those who had made tremendous achievements in their various businesses earlier empowered by the state.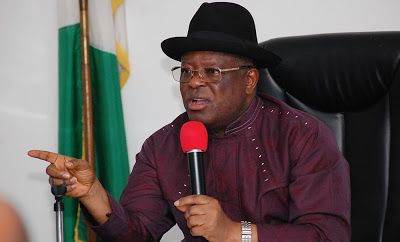 At a Christmas party organised for the elderly men and widows, he stating that it was purposely to put smiles on faces of the special people.
"The greatest achievement of any leader is when his subjects are happy and by grace of God, we have been favoured in ensuring that every sector of our society in Ebonyi is happy.
"This is the reason why we are celebrating the Yuletide with smile, " he said.
He commended his Wife, Mrs Rachael Umahi, and his Senior Special Assistant on Religion and Welfare Matter, Rev. Fr. Abraham Nwali for the ceremony.
"I want to thank you for bringing our elders to this event. You can remember that one of our covenants is to take care of the elders and widows just as our faith has decided that widows are wives of our Lord.
" I want the widows to be a assured that it is not the choice of our administration rather a command from God which we must do, "Umahi said.
He further congratulated the widows, the last batch of 200 who were given sum of N100,000 each where they were expected to have at least one hectare of rice farm.
" We will continue to honour you and pray that our Lord will keep you all in good health and strength, "Umahi said.
Nwali who expressed delight on the succour being provided, commended the governor for identifying with the elders and widows in the state.
He advised political leaders and stakeholders in the state to step down the gesture to grassroots.
"Extend the gesture to the needy, " Nwali said.
Newsmen report that wrappers were distributed with sum of N20,000 cash to each of them.
NAN