By Nwafor Sunday
The forthcoming Fifa world cup that would take place in Russia next year, has Nigeria, Iceland, Croatia and Argentina in the same group. The question is why do we have Argentina always in our group in every world cup? Top question from Nigerians.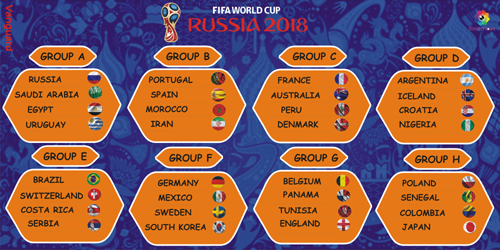 However, Russia, Saudi Arabia, Egypt and Uruguay took the first group which is A. Group B fixtured Portugal, Spain, Morocco and Iran. Whereas group C has France Australia, Peru and Denmark.
Argentina, Iceland, Croatia and Nigeria will battle it out in group D. Like wise Brazil, Switzerland, Costa Rica and Serbia in group E. Germany, Mexico, Sweden and South Korea have group F to prove themselves.
In group G Belgium, Panama, Tunisia and England were merged to battle it out also. Same as Poland, Senegal, Colombia and Japan in group H.
Among these countries which do you think will emerge winner?
Your comment bellow