By Ben Efe
Henry Onyekuru and Anderlecht of Belgium are at cross paths over his knee injury. And the Nigeria  Football Federation has mandated the Super Eagles team doctors to examine the facts and come up with the true condition of the player.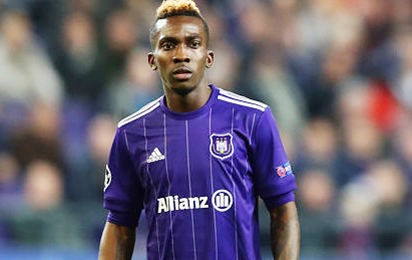 Onyekuru picked up the injury while playing for Anderlecht against former club, Eupen in a Belgium league match. It was reported that he will be out for as long as six months. However, the young player was quoted as saying that he wouldn't be out for that long and he also would not undergo surgery. Then on Friday, Anderlecht came out with a statement insisting that the player will go under the knife and will definitely be out for six months.
The Belgium giants also added that they are discussing with Onyekuru's parent club Everton on where he will be rehabilitated. It is still not clear whether Onyekuru will return to his parent club for rehabilitation or not.
Speaking on the controversy yesterday, Nigeria Football Federation president Amaju Pinnick stated that the Super Eagles handlers were on top of the situation.
"We are in touch with Onyekuru and have asked the Super Eagles team doctors to examine the facts.
"He is one of our brightest hope for the future and definitely, we want to know his true position."
Meanwhile the player revealed that he is back home in Nigeria to spend holiday with his family.
"Had to come back home NG to spend time with the family. Family time speeds up the recovery, God willing I'll be back better and stronger"Onyekuru tweeted with a photo of his "baby sister planting a kiss on him.