Governor Samuel Ortom in this interview speaks on why he is championing a second term re-election for President Buhari, the defection of Alhaji Atiku Abubakar from APC, the alleged politicization of the open grazing prohibition law in the state among other issues. Excerpts: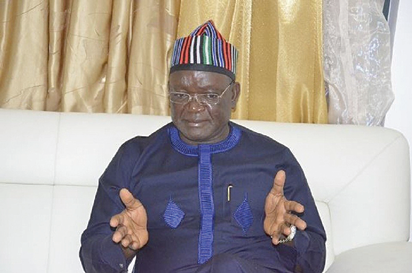 By Peter Duru
Can your government clear the backlog of salaries before Christmas as President Buhari directed governors to do? 
The fact is that on that matter, the President is being misquoted. Mr. President didn't say we should clear arrears of salaries. He said the last tranche of the fifty percent, please get it very well, the last tranche of the Paris Club refunds that was approved by him should be released to states so that civil servants too can enjoy their Christmas like every other person. We already have a template of what we agreed with the President and that is that when this money comes that at least a minimum of 50 percent of the amount should be used for the payment of salaries. That was the agreement we had. But here in Benue State each time we get it we use more than that. The last time we used more than 80 percent for the payment of salaries arrears, even the one that we are about to receive, we will use more than 70 percent to pay arrears. That is what we intend to do.
You have been championing the re-election of President Buhari, what informed your decision considering his age and fragile health because it means he still has about six more years to spend in office if he wins? 
If you recall we in Benue State were the first in the country to initiate prayers for President Muhammadu Buhari when he took ill early in the year.
We thank God that he is back on his feet and getting better and stronger by the day. Today he is up and doing, moving from one place to the other and carrying out his official duties.
He is truly a gallant retired military man because he is still very strong.
Beyond that, he is a man of integrity, discipline and with so much courage to fight the cankerworm called corruption.
He is a selfless leader who has instilled discipline in our people. That is the kind of person we need at this particular time of our development and history as a nation.
You may have an alternative, but for me, and as far as I am concerned I have not seen an alternative to President Buhari at this our very trying time.
It is interesting to note that despite all the challenges he met on ground on assumption of office, a period when the country went into a deep recession, he took far reaching decisions that got us out of the recession; that is no mean achievement.
I believe that we will get there someday as a nation, challenges may abound but I believe that we will overcome them. So I still remain committed to my belief that President Buhari remains the leader that we need at this particular time of our history and development as a nation.
Recently a leading member of your party Alhaji Atiku Abubakar dumped the APC for personal reasons, do you see this affecting the fortunes of your party going forward? Secondly on two occasions elder statesman, Wantaregh Paul Unongo had advised that at the end of your tenure power should be ceded to the Idoma speaking area of the state. Will you heed his advise?
On Alhaji Atiku's resignation from the APC, all I can say is that we are in a free world, we are in a democratic dispensation. And you know that democracy entails freedom, freedom of speech, association and all that. And again, I want to inform you as a politician, in the game of politics there are no permanent friends and enemies but permanent interest.
So it is where your interest is that you will always head to. But I want to assure you that this will in no way affect the chances of the APC in Benue State and indeed the entire country. We are united and we are still committed to the objectives of the APC, we are working with those objectives and the party is getting stronger as more people are defecting from the other parties to the APC. In Benue state here as you can see, members of the State and National Assembly, have defected from the PDP to the APC and same in several other places in the country.
So the APC is waxing stronger and will continue to be strong. We are confident that come 2019 we will win again by the grace of God because we are committed to getting the country out of the woods. Nigerians have not forgotten the ills of the past and are always ready and willing to team up with us. We are in touch with Nigerians and there is no cause for alarm. But as for Atiku he has the freedom. It is no crime to move from one party to the other depending on what your interest is. After all I was in PDP but I had to join the APC and I am here today because of my interest.
On the Paul Unongo demand, all I can say is that he is a major stakeholder in Benue State, he is a father of the state, a veteran politician. The game of politics is a game of numbers. There are many definitions of what democracy is, but if you ask me I'll tell you that democracy is what the people want or what the majority of the people want. So it is a game of numbers and it is a matter of us working together and agreeing among ourselves that this is the right thing to do.
I am a product of democracy and I believe in democracy, it is not a crime for anyone to be governor in Benue State once the people are in agreement.
What he expressed were his personal views and I look forward to whatever the people say in 2019 or 2023 because we will all go with them and that ends it.
Few weeks ago you started the enforcement of the open grazing prohibition law but if you go round the state you still find herdsmen and even the locals engaging in open grazing, people are beginning to wonder if your government is actually serious with the implementation of the law? 
Like I said the day we flagged off the implementation of the law, I said that we are going to implement the law with a human face. It's a new innovation but we have decided to take the bull by the horn to ensure peace for the herdsmen and farmers, but we will give it a human face. First of all the law was signed in May 2017 but we decided to give time for transition before the implementation. So five months grace period was given before the commencement of implementation. Today we have started the implementation and we are encouraging our indigenes who have the capacity or who have the interest in breeding livestock generally to go into livestock production. It is a lucrative business that will add value to the economic development of our state.
We are encouraging our people to buy into it. We are trying as much as possible to give the implementation of the law a human face and in doing this they must ensure that their livestock do not trespass into people's farms.
Subscribe for latest Videos