…Says banks' services fuelling fraud
By Michael Eboh
Former chairman of the Economic and Financial Crimes Commission (EFCC) Mallam Nuhu Ribadu, Tuesday, warned that the country's banking system is prone to abuse due to some services provided by commercial banks to their customers.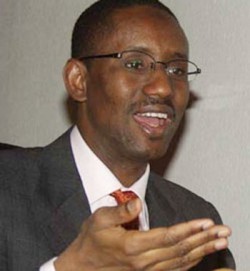 Ribadu stated this in Abuja, at the launch of a book titled, 'Improving anti-money laundering compliance: Self-protecting theory and money laundering reporting officers,' written by Dr. Abdullahin Usman Bello.
He also disclosed that series of investigations had always revealed that in the banking sector, almost no case of corruption occur without the involvement of banks and bankers.
He said, "Internally, we still have a lot of issues, as our banking system is prone to abuse by corrupt elements. There are many avenues through which such abuses happen. Some individuals use the convenience of the areas that are subject to abuse as private banking offered by commercial banks for money laundering.
"Some others also use the anonymity offered by electronic banking to conceal suspicious transactions. Yet, some others use cash intensive customers, who are into legitimate businesses as fronts or conduits for money laundering."
To address the anomaly, Ribadu advised that banks and operators should have an introspective look at some of these issues and resolve to put a stop to it both in public and corporate interest, as well as the individual's interest.
He noted that risk management is very essential, while he advocated that banks should identify the risk of money laundering in relation to products, services and customers and assess such risks at every stage.
He said, "The risks should also be managed whether high, medium or low- risk profiling through reporting, due diligence and monitoring. There should also be thorough profiling of customers and manual and automated checks when onboarding new customers or reviewing existing customers, to checkmate abuse and potential risks.
"As leadership is the first step in getting it right especially on matters of reforms and integrity, the board and senior management of financial institutions have a huge responsibility in ensuring strict compliance to Anti-Money Laundering (AML) regimes.
"When it is the board or management staff that bend rules to approve suspicious deals or warehouse illicit funds, the rest of the staff are only being shown how to behave. The top has to therefore be firm for the rest to fall in line."
Ribadu highlighted the need for banks to cooperate with law enforcement agencies and regulators, not only by the word of mouth but in letter and spirit.
According to him, there has to be genuine commitment to the fight against money laundering at the highest decision-making body of financial institutions, adding that those in charge of decision at that level need to look at the wider picture, beyond business and profit.
He said, "There are issues to be determined by public interest and large corporate interests. Whenever your institution is exposed as facilitator of illegitimate transactions, it would have an effect on your corporate image, more so when such a thing leads to court cases.
"These processes are possible to adhere to, to the extent that the financial institution has trained staff that are versed in Anti-Money Laundering (AML) guidelines and laws. The institutions should also ensure that they have adequate systems, both manual and automated, for identifying and reporting suspicious activities."
Also speaking, Governor of the Central Bank of Nigeria, CBN, Mr. Godwin Emefiele, said there was need for governments and institutions around the world to take the issue of flow of capital and funds seriously. According to him, dirty money are proceeds of crime, and it's time for governments to take serious action.
He lamented that proceeds of crime destroy the fabric of society and country, adding that leaders must do everything possible to combat crime and corruption, particularly money laundering.
He said, "The banks and CBN have done their best to support anti money laundering and will continue to put in place policies that will combat money laundering."