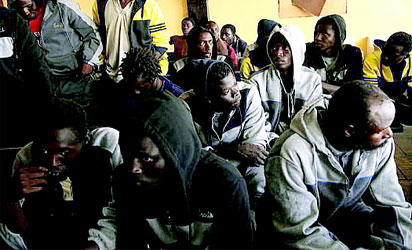 Migrants… bought and sold in car parks
Ever since a CNN investigation produced footage of West Africans being sold at slave markets sometime in November, human trafficking in Libya has become a burning topic. Stories coming out of Libya have been gruesome, highly unbelievable.
What has been playing out in Libya, a sovereign state in the Maghreb region of North Africa, has been so pathetic, dehumanizing to say the least. Indeed, it is one story that should actually belong to the dark ages.
Libya, it would be recalled, descended into a civil war in 2014, and is widely considered a failed state. Incidentally, the chaos-ridden country has long been a major transit hub for people trying to reach Europe. And many have fallen prey to serious abuse in the North African country at the hands of traffickers among other heartless beings.
So today, all over the media, pictures are being splashed of young African men, especially, and women in their very productive years undergoing one form of torture or the other in the hands of Libyan officials.
The women are in addition molested, sexually, and oftentimes, forced to drink the urine of their captors, who directly do that right into their mouths.b
The men among them are mostly tied to walls, iron rods and often times beaten to death. Or even roasted alive! They are sold into slavery, also, where they are murdered, mutilated, tortured or worked to death.
One of the victims in a story online, who had opportunity to place a call from where they were being held captive, narrated to a relation back in Nigeria his unimaginable experience.
According to him, he would be dead any moment from the time he was speaking, if no one came to his rescue by providing the amount of dollars being demanded of him for his freedom. A delay, he said, would see him killed by his captors, who would then harvest his organs and sell to willing buyers.
Although this barbaric treatment on migrants has always been there, the very brutal dimension was blown open when a CNN news report showed video evidence of illegal African migrants, among them Nigerians, en route to Europe but captured by Libyan authorities. They were being sold off for various amounts in the range of $400.
Incidentally, Italy, the country where most of the girls end up as prostitutes, is alleged to be paying the same Libyan traffickers more money in order to stop them from sending migrants on boats to their country (Italy).
This EU policy of helping Libyan authorities intercept people trying to cross the Mediterranean and return them to prisons, so to speak, is inhuman and the suffering of the migrants detained in Libya is no doubt an outrage to the conscience of humanity.
The international community therefore, cannot continue to turn a blind eye to the unimaginable horrors endured by migrants in Libya, and pretend that the situation can be remedied only by improving conditions in detention.
As a matter of fact, the situation in Libya is best described as modern day slavery. With many young Nigerians among the victims, it calls for urgent action from both the government, National Agency for Prohibition of Trafficking in Persons (NAPTIP) as well as other non-governmental organizations (NGOs) to sensitise young Nigerians on the dangers of submitting themselves to traffickers in a desperate bid for greener pastures in Europe.
It also calls on the Federal Government to, as a matter of urgency, liaise directly with the government of Libya to free those who have been enslaved with the view of also stopping the slave trade immediately.
A situation where about 27,000 Nigerians are said to have died in their failed, though illegal bid to cross into Europe, is unacceptable and is the more reason why those still nursing such ideas must be urged to perish the very risky venture.
Thankfully, President Muhammadu Buhari has assured that all necessary steps will be taken to stem the tide of illegal migration by Nigerians, adding that all Nigerians stranded in Tripoli would be brought home.
This is indeed, a welcome development. And the president who said this during an interactive session with members of the Nigerian Community in Cote D'Ivoire on the margins of the 5th AU-EU Summit, would add that to reduce the number of Nigerians heading for Europe illegally through the Sahara Desert and the Mediterranean Sea, basic social amenities such as education, healthcare, and food security must be provided at home.
It is hoped that these words would, as a matter of urgency, be matched with action, for when all that is put in place, there would likely be no need for any young Nigerian, a vital segment of the country's future, will have no need risking their lives for imaginary jobs abroad, even when they are not sure of reaching their destination alive.
Young Nigerians must be encouraged to make demands on their creativity and ingenuity in order to survive the tough times, rather than succumbing to the allure of a false paradise abroad.
In addition, every effort aimed at imposing sanctions on the people involved in the Libya's slave trade of African refugees and migrants, must be supported.