Speaker of the House of Representatives, Rt Hon Yakubu Dogara, a lawyer, will best be remembered as one parliamentarian who ensured the North East Development Commission sails through without a hitch.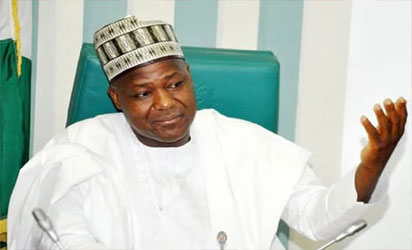 Breaking all protocols, Dogara stepped down from the speaker's traditional stool to lead the debate on the Bill for the creation of the North East Development Commission.
Apparently looking back at the ravages caused by insecurity that destroyed his North East  geo-political zone, this remarkable lawmaker surprised his colleagues as he led the debate from the floor of the House. Well known as an eloquent speaker even as a floor member in the sixth and seventh Assemblies, Dogara did not disappoint his many admirers across Nigeria. He simply delivered the Bill to safety.
A unique feature never displayed by any speaker in this clime and this move earned him the accolade of the champion of the North East Initiative by his colleagues. Known as a stoic philosopher who strongly believes in his abilities, in 2015 against all odds emerged speaker defeating the annointed candidate of the All Progressives Congress, APC , Rt Hon Femi Gbajabiamila with eight votes. Despite the initial hiccups that greeted his emergence, Dogara in the last two and half years has stabilised the most vibrant Green Chamber in Africa.
The lawyer  turned politician simply applied brilliance and Intelligence to steer the ship he captains from troubled waters. Never quickly provoked but good and smart at hitting the gavel to get desired effects for a good legislative piece for the desired output without necessarily hurting all parties involved.
This his rare style of legislative presentation has earned him the desired respect  from his colleagues as first among equals.He is one lawmaker that Nigerians will not be in a hurry to forget as he is definitely going to leave indelible footprints in the annals of Nigerian history as one lawmaker that excellently delivered good laws that could turn around the fortunes of Nigeria.
"When Nigeria was engulfed in the quagmire of recession recently,Dogara summoned all the ministers to brainstorm on how to move Nigeria out of the woods. He equally set up an ad-hoc Committee to interface with  the executive arm to quickly checkmate the Nigerian economy before it catapults into depression. His efforts paid off as the recessed economy bounced back within a very short period.
Philanthropy is another area the Speaker has delved into that many people may not know about this Bauchi born lawmaker.
This writer stumbled on a lawmaker that speaker  Dogara once mandated to save the life of a baby in Portharcourt.
Dogara read in one of the national dailies barely three months after he emerged Speaker that the child needed N3million for a heart surgery and he immediately mandated the lawmaker to pay the money into the account he copied from the newspaper. This is not a common feature among successful Nigerian politicians but Dogara quietly performed this life saving role in the child's life without any announcement.
Biography: Yakubu Dogara was born on December 26, 1967 in Bauchi State, where he had his primary and secondary education before heading to the University of Jos in 1988 to study Law. He currently represents Bogoro/Dass/Tafawa- Balewa Federal Constituency, and is serving his third term as a federal lawmaker, after first being elected in 2007.
His education career began in 1976 at Gwarangah Primary School in Bauchi state. In 1982, he proceeded to"the Bauchi Teachers' College for his secondary education, and obtained a Grade II Teachers'Certificate in 1987. In 1988, he went on to the University of Jos, Plateau State, from where he obtained a Bachelor of Law (LLB Hons.) degree in 1992. He then proceeded to law school and was eventually called to the Bar in 1993. He later obtained a Masters (LLM) in International Commercial Law at Robert Gordon University,  Aberdeen, Scotland. In 2006, he attended a course on Managing and Leading Strategic Change and in 2013, he completed another course on Negotiation at the Oxford University. In 2014, he went on to the Harvard Kennedy School for yet another course on Leadership.
After graduating from the Bauchi Teachers' College, he took up employment in April 1988 as a teacher at the ATBU Staff School in Bauchi. In 1993, during the mandatory National Youth Service Corps, he served at NCCF, Akwa Ibom state, and upon completion of the NYSC programme in 1994, he went into private legal practice until 2005 when he was appointed Special Assistant to the then Minister of State for Transport.
He held this position until 2006, when he decided to contest to represent the Bogoro/Dass/Tafawa- Balewa constituency at the Federal House of Representatives. His bid proved successful and he has been a member of the House since 2007.
By  Eman Ovuakporie