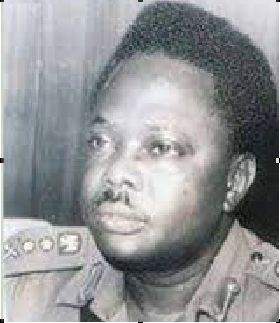 Murtala Muhammed
By  Emeka Obasi
General Murtala Mohammed knew his roots, many of us do not. There are different accounts trailing his place of origin. Official records say he was from Kurawa Quarters, Kano. Some accounts tell us he was born in Aviele in today's Edo State. And there are those who swear the Signals officer hailed from Igbei, Auchi.
Murtala's mother, Ramatu, was a Kano woman and part of the Inua Wada family. Wada, of course, was one of the powerful ministers in the First Republic. He was Defence Minister before Muhammadu Ribadu.
The general loved his mother so much that on assumption of office as Head of State in 1975, he dropped his middle name, Rufai and chose Ramat, in her honour.
Risqua was his father and he  gave the name to his second son while the first son, Zakari, was named after Brigadier Zakari Maimalari, one of the First Sandhurst trained Nigerian military officers.
There is this tale that  Murtala's dad, Risqua, was originally an Etsako man and traded in kola nuts around the Agege area of Lagos. Then he would travel to Kano where he got really close with the Inua Wada family. In the process, he fell in love with and married Ramatu.
However, his Kano in-laws did not know  Risqua was not a Northerner. He also did not want them to know. At the same time, the man did not forget his Etsako roots. He entertained his kinsmen and anytime an in-law was spotted as they discussed, Risqua switched to Hausa.
Murtala's son Risqua, acknowledges the fact that his father had something to do with Auchi, although he limits it  to building a mosque in the town.
He said: "Yes, people say that my father had strong relationship with Auchi, but I think they got it from the fact that during the war, he built a mosque in Auchi and I think that was where the relationship started from."
Risqua was barely six years old when  Gen. Mohammed died 1976. Zakari was 10. Their father showed signs that there was something special about Auchi where he was said to have  slaughtered a white cow  during the push against Biafra announcing that their son had come home.
As Head of State, he appointed an Etsako man, Col. George Agbazika Innih, from Agenebode, Military Governor of Mid-Western State. At that time the state comprised today's Edo and Delta States. And that state produced two governors: Innih and Paul Ufuoma Omu, while some like North –Eastern, East Central, Rivers and South-Eastern were not considered.
Shortly before his assassination, Murtala took four traditional rulers to Mecca on pilgrimage. One of them was the Otaru of Auchi, Guruza Momoh. He promised and built a School of Engineering in the town too.
When  General Mohammed left Army Signals as Head,he chose an Etsako officer,Col, Abdu Rahman Alhaji Mamudu, from Agbede as his replacement. It is also on record that as a war commander, Murtala appointed Col. Osaigbovo Ogbemudia, Military Governor of Mid-Western State even when he had no such powers. General Gowon obliged him and confirmed the appointee.
There is also the Yoruba angle. We remember his father was said to have been a trader in Lagos. And the Second Division of the Nigeria Army which Murtala commanded during the war, was  made up majorly of Yoruba officers and men.
In 1962, Captain Murtala Mohammed was Aide de Camp[ADC] to the Administrator of the Western Region, Dr. Moses Majekodunmi. A year later, he married a Yoruba lady, Ajoke. And one of his best friends was Chief Moshood Abiola.
Of the 12 state governors appointed by Murtala in 1975, only three: Innih, Captains Akin Aduwo of Western State and Adekunle Lawal , Lagos; sat over their states of origin. The last two  were Yoruba. Another Yoruba, Col. Ibrahim Taiwo was sent to Kwara which had a large Yoruba population. Even when Aduwo was redeployed after one month, yet another Yoruba officer, David Jemibewon took over.
Murtala chose a Yoruba, Lt. Akintunde Akinshehinwa, as his ADC. Both were born in November and died on February 13, 1976. The subaltern finished at Edokpolor Grammar School, Benin City in Murtala's Mid-West. His Minister of Sports, Maj. Gen. Olufemi Olutoye, a Yoruba,  attended Primary School in the same Benin: St. James School and later, St. Peter's. Murtala's Orderly, St. Sgt. Michael Otuwe, was a Mid-Westerner.
Two powerful Panels set up in 1976 on a new Federal capital and creation of new states,  were headed by a Yoruba, Justice Akinola Aguda and a Mid-Westerner, Justice Ayo Irikefe respectively.
And when the First Director General of NITEL, Mr. Akindele thoroughly lampooned the Hausa man, Murtala,  at Dodan Barracks, the Head of State did not react. The engineer almost collapsed when he heard the Commander-in-Chief spoke Yoruba to Gen. Olusegun Obasanjo, his deputy.