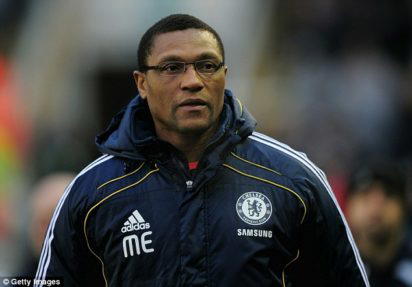 emenalo
Former Super Eagles defender, Michael Emenalo has given reasons for his shock departure from his role as technical director of football at Chelsea of England, insisting that he is moving on due to family reasons.
Emenalo stated: "After 10 years here, 10 wonderful, successful years, but very demanding years, it is a very tough decision to decide to step aside.
"It is entirely my decision and it has come about for very simple reasons. I need an opportunity to get to see my young kids grow and also to step back and reflect on the work that I have done here and the things that we have been able to accomplish together in this great club.
"It is something I have been thinking about for quite some time now and it is something I have discussed with my family and they understand the reasons and the timing for wanting to step aside."
Emenalo also spoke on the controversial loan system he oversaw at the club, which sees scores of the Blues' young talents ply their trade across the continent in the pursuit of eventual first-team football.
Emenalo singled out Andreas Christensen as an example of this system being a success, claiming the lad's attitude also helped make things work.
He concluded: "He's shown great humility to go on loan and work very hard while he was there and gain the experience which is needed, and the timing is right for him now to step in and show what he's learnt during those periods of development."