The new Secretary to the Government of the Federation (SGF), Boss Mustapha, has said that the public should address him simply as "The SGF" and not add any other appellations.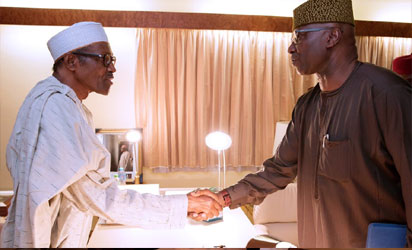 Mustapha who said he claims no superior knowledge over anybody to warrant appellations such as 'Your Excellency' also said that those appellations are banana peels.
Boss Mustapha who said this yesterday while receiving his handover documents from former acting SGF, Dr. Habitat Lawal, also described the appellations  'Executive Governor', 'Your Excellency' commonly used in Nigeria as " banana peels and unconstitutional."
According to him,  "I will make a passionate appeal. I don't know where you people get this 'Your Excellency' from. Some of the nomenclatures are banana peels.
"I often hear people say 'Executive Governor,' I say look at the constitution, there is nothing like executive governor. It is Governor of a state," Mustapha said.
"I want to simply be addressed as SGF please", Mustapha told those in attendance at the brief ceremony.
"I don't claim any superior experience or skills other than the grace of God," he added.
Subscribe for latest Videos