By Chris Onuoha
Prof. Akachi Adimora-Ezeigbo today stands out as one African female writer who, even in retirement from UNILAG that spanned for decades, seems not tired in pursuit of a career she is passionate about – teaching and writing.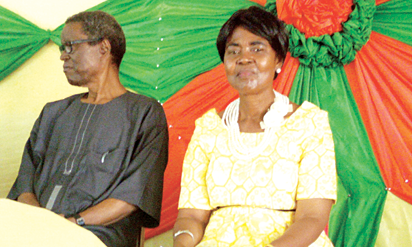 On November 9, the literary community once again gathered at the Federal University, Ndufu, Alike-Ikwo (FUNAI), Ebonyi State, her new abode, to honour and celebrate a woman of dogged but humble personae whose contributions to the welfare and equitable treatment of women in Africa through her literary works stand out. Her biography, Literature and life: Akachi Adimora-Ezigbo, which tells the story of her life, written by Ezechi Onyerionwu, was presented to the public, first at the University of Lagos few months ago, and later at FUNAI.
"The amazing thing about the biography was that the writer was able to weave my life into the literary development of Nigeria. In the book, you will find some people like Achebe, Soyinka and other African literary writers mentioned. I think the biography speaks about those who are working on my works. People will find it so useful because it tells so much about the history of Nigeria, using me as model," Prof. Akachi said.
His Royal Highness, Prof. Chukwuemeka Ike, traditional ruler and one of Nigeria's renowned authors was the chairman of the occasion. In his words, Prof. Akachi is fantastic. "She combines all literary criticism with creativity, which is unusual because many writers look at creative scholars as frustrated writers, but she is combining both and doing it excellently.
According to him, "Akachi Ezeigbo is also doing a unique thing by trying to create another literary genre in Igbo language. It is our language, our culture and heritage. To me, that is wonderful and I support such moves and will also encourage other Igbo writers to do more on that.
It is a legacy we should keep for our children unborn to inherit," Prof. Ike added.
Prof. Dr. Christian Anieke, Vice-Chancellor, Godfrey Okoye University, while lending his voice to this woman of worth said: "She is a great personality. She is a fantastic human being and her works cut across all literary fields. She is not just a poet but a novelist, dramatist and she goes into all the literary genres. She identifies her voice in all genres and her very subtle, interesting feminism cuts across everything she writes. Women, so to speak, are marginalised in the country. You can see it in marriages, at work and how we subjugate them in families. You will also see it in the treatment of widows. If we can help to make the life of women better, it will help our society."
Professor Akachi's husband, Chris Ezeigbo, said every human being, whether man or woman, will always be happy when his or her spouse is doing well. Mine is not different. I am happy with her achievements. I have stood by her, supported and encouraged her in her projects and will also wish for God to keep her alive to do more for humanity.
Other speakers also took turns to extol the virtues of the literary icon that has devoted her life and time to the cause of reorientation and attitudinal change towards female gender. Association of Nigerian Authors President, (ANA) Abdullahi Denja said she is a pride to the association and the entire literary community. Barrister U.V. Onuoha, Director, Management Support Services, National Universities Commission, representing the DG said that Prof. Akachi is a living legacy that is worth emulating among young writers.