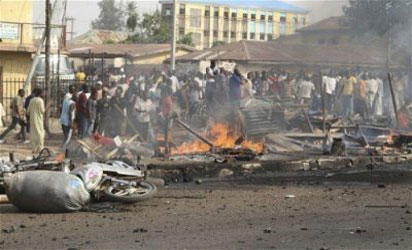 Boko Haram Attacks Maiduguri University
By: Kingsley Omonobi-Abuija.
Soldiers of Nigerian Army battling to rid the North East of Boko Haram terrorists on Monday surmounted an ambush attack launched by hundreds of the terrorists around Banki town in Borno, killing more than 20 of them while 6 soldiers sustained bullet wounds in the cross fire.

Four persons, who were unfortunately in the line of the firefight, were killed when their vehicle ran into an IED planted along the road and the bomb exploded while 8 others including 2 civilian JTF members sustained injuries; however, the terrorists who would have abducted some IDPs were repelled.
Confirming the development in a statement, Director of Army Public Relations, Brigadier General Sani Usman said, "Troops of 152 Battalion, 21 Brigade Nigerian Army on Operation Lafiya Dole on Monday 30th October 2017, encountered suspected Boko Haram terrorists ambush along Banki- Bula- Yobe road in Bama Local Government Area of Borno State, while on escort duties of some civilians from Banki to Maiduguri.
"Although the troops successfully cleared the ambush after a heavy fire fight, regrettably 4 persons lost their lives when their vehicle stepped on a buried Improvised Explosive Device on the road.
"Similarly, twelve persons comprising 6 soldiers, 2 Civilian JTF and 6 internally displaced persons sustained various degrees of injuries.
"The terrorists who laid improvised explosive devices on the road to deter troop's movement had amongst them a suicide bomber who could not bear the troops heavy volume of fire which made the terrorist to detonate the explosive killing him.
Usman said, "The Troops displayed high level of gallantry by swiftly engaging the terrorists leading to the neutralizing of the large number of the terrorists while some of them escaped with gunshot wounds.
"During the exploitation process, they also discovered bodies of some of the Boko Haram terrorists and recovered 2 Fabrique Nationale Rifle magazines, 50 Belted 7.62mm special and a Detonating Cord 33 used by the terrorists in detonating Improvised Explosive Device.
"The wounded soldiers have since been evacuated by Nigerian Air Force helicopter to 7 Division Hospital and Medical Services and are recuperating well."