Lagos – Peoples Democratic Party (PDP) chieftain, Chief Bode George, says the party needs a man with vast experience as national chairman to enable it find its way back to power in 2019.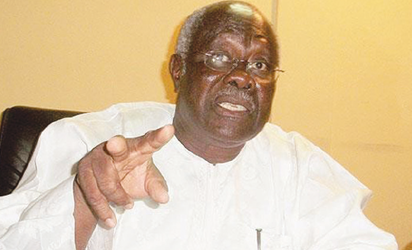 Speaking with journalists in Lagos on Wednesday, George described the PDP Dec. 9 national chairmanship election as the crossroads at which party members could not afford to take a wrong turn.
"We are at the crossroads and if we take the wrong turn, we may not make it,'' the one-time Deputy National Chairman of the party said.
George is set to officially declare his intention to vie for the party's national chairmanship position in the Dec. 9 election on Friday.
According to him, God is giving the party a second chance after its defeat at the 2015 polls after a 16-year rule.
''If you're suddenly hit by a fast-moving train when you don't expect it, the shock itself is incalculable. We went into a spin and almost lost confidence in ourselves,'' George said.
According to him, this was followed by the leadership crisis which was eventually resolved by the court.
George said the party could not afford to misuse the new opportunity before it in choosing its national chairman.
He likened the present state of the party to a cancer who needed another pill after coming out of coma.
The party chieftain said he had the needed experience for the job to weather the battle ahead, which he admitted "would not be easy".
According to him, time is not on the side of the PDP and so cannot afford to experiment at this stage.
"It's a major decision, not only for the party, but for the entire Nigeria,'' he said of the national chairmanship election.
George said the party must avoid the pitfalls of the past and must throw impunity into the dust bin immediately.
"It is the responsibility of the members to take a deep breath and look at who the cap fits,'' he said.
The party chieftain traced the history of the PDP and said the South West was best placed to produce the next chairman based on the party's zoning arrangement and its electoral value.
"We are not saying anybody should not contest but because of empathy for the South West, people said it's their turn,'' he said.
Two former ministers, Chief Ebenezer Babatope and Sen. Adeseye Ogunlewe, who were also at the event, said George had the right credentials to lead the party and restore its lost glory.(NAN)