By Chioma Obinna, Monsuru Olowoopejo, Davies Iheamnachor & Gabriel Olawale
Barely 24 hours after Monkey Pox virus spread to Akwa Ibom State, more suspected cases of the disease have been reported in Lagos and Rivers states, bringing the total number of states affected to seven.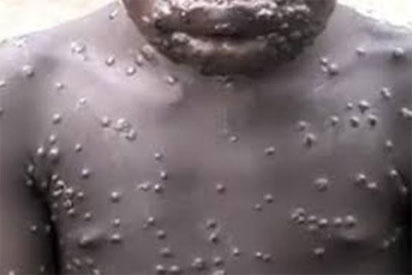 The states affected include Bayelsa, Rivers, Ekiti, Akwa Ibom, Lagos, Ogun and Cross River.
Confirming the latest development in a statement, National Coordinator/Chief Executive Officer,  Nigeria Centre for Disease Control, NCDC, Dr. Chikwe Ihekweazu, who said all 36 states of the federation and the FCT have been notified, explained that samples have been collected from each suspected case for laboratory confirmation.
According to him, "results are still awaited. So far, there have been no deaths recorded. It is unlikely that many of the suspected cases are actually Monkey Pox, but all are being investigated.
"All the suspected cases are currently receiving appropriate medical care, and the patients are all improving clinically in their various states.
"In light of the above, it is important to be reminded that Monkey Pox is a rare viral zoonotic disease with symptoms in humans similar to those seen in smallpox patients, but much less severe and with a low fatality rate.
"Monkey Pox is self-limiting, which means patients tend to recover with time. However, supportive care and management of condition is required and mostly successful."
…in Lagos
Meanwhile, the Lagos State Government, yesterday, confirmed that two suspected cases of Monkey Pox have been recorded in the state.
The state's Commissioner for Health, Dr. Jide Idris, who disclosed this in a press conference in Lagos, said the two suspected cases were currently being investigated.
"Although no confirmed case has been recorded, there is need to sensitise members of the public and provide adequate information on measures for prevention and control of the disease in line with the policy of the state government."
Idris disclosed that the two suspected cases were recorded in an undisclosed private hospital in Lagos, noting that the two suspects were currently being quarantined in their various houses, pending the result of the investigation.
"If there is any suspected case of Monkey Pox, the Lagos State Ministry of Health should be notified through the following mobile lines: 08037170614, 09087106072,"  he added.
…2 in UPTH
Also yesterday, the Chief Medical Director of the University of Port Harcourt Teaching Hospital, UPTH, Professor Aaron Ojule, disclosed that two persons with suspected Monkey Pox infection have been hospitalised in the institution.
Ojule, who quickly added that the two cases have not been medically proven to be Monkey Pox, confirmed that samples have been collected and sent to a medical laboratory in Sierra Leone for examination.
The CMD, who spoke to Vanguard yesterday in Port Harcourt, stated that the two patients, who are from the state, are doing well, adding that experts from UPTH are handling the matter.
Ojule said: "Once we know that there is an emerging epidemic, we as an Emergency Response Mechanism, ERM, use the Infection Prevention Control Team. Now we have activated our ERM because we have to stand in the gap for this local area.
"As we speak, there are two suspected cases. They are not yet confirmed, because they have generalised rashes which may not be Monkey Pox.
"They are already on admission in our isolation ward and, of course, we don't have the diagnostic ability to confirm.
"So samples have already being taken and, in collaboration with the state government, they have been sent to where they are being examined in Sierra Leone."