TALK about the rise and fall of Nigeria's Ivy League oilman. Yes, that is what it is, considering where and how it all started two years ago. What happened to Dr. Emmanuel Ibe Kachikwu reminds me of one inelegant Russian proverb which says: "Gold sinks, shit floats" (please, pardon the vulgarity of those Russians).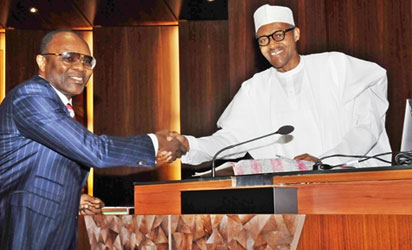 You will recall that the screening of Kachikwu and former Governor of Lagos State, Mr. Babatunde Raji Fashola, were the star attractions of the exercise which took place on October 14, 2015 at the Senate. The power of oratorical delivery and depth of knowledge displayed by this duo on that day raised the stakes on the quality of stewardship Nigerians were to expect from the President Muhammadu Buhari cabinet, which took five months to compose. After listening to just the two of them, many Nigerians gave the cabinet a pass mark in terms of pick quality.
Premium Times online Newspaper actually awarded Kachikwu and Fashola 9/10 each, compared with nominees like Dr. Chris Ngige (2/10), Abubakar Malami (4/10, which I considered over-generous for a man who could hardly speak quality English commensurate with the post of Attorney General and Justice Minister he was later saddled with), Hajiya Aisha Alhassan (2/10) and so on.
Kachikwu, a first class Law scholar of University of Nigeria and Harvard University, was first appointed Group Managing Director, GMD, of the Nigerian National Petroleum Corporation, NNPC, on August 5, 2015, a move that projected President Buhari as a leader determined to employ the most qualified Nigerians irrespective of their backgrounds, at least then.
I found it remarkable that Buhari, with his track record of unabashed nepotism and ethnic bias against Igbo people, would give this prized job to a hardcore professional of Southern (particularly Igbo) background, knowing the importance of our oil cash-cow to the North. Little did we know what was coming later. Employing a former Executive Vice President and General Counsel of ExxonMobil Africa convinced many that the new President was indeed determined to clean up the oil industry and turn it into a viable business in line with the recommendations of the Pricewaterhouse and Coopers (PWC) Audit Report of 2014.
Things began to change, however, soon after Kachikwu climbed down from the podium of his Senate screening. He was appointed Minister of State for Petroleum Resources/GMD, NNPC. Buhari awarded the post of Petroleum Resources Minister to himself! I kicked against this on this column, and many well-meaning Nigerians also did, but we had our say and Buhari had his way.
Then, on July 5, 2016, the Federal Government announced the appointment of Dr. Maikanti Baru, a career NNPC oilman, as the new GMD of the NNPC. Kachikwu had lost his place of pride, as he was relegated to the figurehead post of Chairman of the NNPC Board of Directors in his capacity as Minister of State for Petroleum Resources.
Kachikwu did not really know what hit him. He was very busy, tapping into his deep connections with the indigenous stakeholders in the Niger Delta to persuade the Niger Delta Avengers and the rest of them who were blowing up oil facilities and grounding the economy to embrace dialogue. Kachikwu will never be forgotten as a critical factor in securing peace in the Niger Delta, which has helped shore up our oil production and lift the economy out of recession.
Perhaps, it was when he returned from the creeks to his office in Abuja that he discovered that the "owners of the job" have taken the juicy victuals, leaving him with mere bones. Contracts were being awarded, jobs were being given, posts were being reshuffled, and the Board which he chaired was never consulted. The new GMD dealt with the President and ignored him. Even his principal, the President, whom he had served so diligently risking his life in the creeks, also ignored him.
Kachikwu probably thought that by writing that leaked letter he could recover some of Buhari attention. But alas! He miscalculated. Baru now came out swinging and told him to his face that his office had no role to play in our oil industry! To make matters worse for Kachikwu, the all-powerful oil workers' union: the Petroleum and Natural Gas Senior Staff Association of Nigeria, PENGASSAN, and the Nigerian Union of Petroleum and Natural Gas Workers, NUPENG, swiftly threw their weights behind Baru. Pronto, what had seemed like an earth-shaking expose of contract scams and lopsided job allocations was treated to an overdose of deodorisation, apologies, Senator Shehu Sani. Our Ivy League oilman, Dr. Emmanuel Ibe Kachikwu, was isolated, alone and licking his wounds in a doghouse!
He came out of his 70-minute meeting with President Buhari on Monday, October 9, 2017 quipping: "No comment", to curious reporters who wanted to find out "how market", as we say in Naija. Of course, the President has entered the issue with his full weight. Kachikwu cannot say anything further in defence of himself after being comprehensively discombobulated by the NNPC's disavowal of his letter.
I don't envy Kachikwu right now. He cannot resign or he risk being given the Professor Tam David-West "wristwatch" treatment. He has to wait agonisingly until Buhari decides when and how to dispose of him. That is a classic case of being used and dumped. They brought him from his exalted office in ExxonMobil and used him to make-believe that they wanted to sanitise the oil industry. They further used him to quiet the militants in the Niger Delta. Now, they have settled down to enjoy the dividends of their victory in 2015, preparatory for 2019. This is no time for outsiders.
Beware whom you take a job or "favour" from. What made Kachikwu think he was a "Buharist" to "throw his weight around" in this government when other wiser elements like Ngige, Dr. Ogbonnaya Onu, Godwin Emefiele and the rest are tip-toeing and pussyfooting to survive?
Kachikwu should have baled out the moment he was removed as NNPC GMD!