By Joel Chukwuma
A 76 years old retired Colonel, Chief Alao Dauda, who was charged with murder, has urged an Ogun State High Court, sitting in Ilaro, to grant him bail.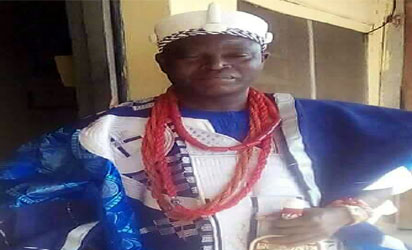 In the bail application by his lawyer, Mr. Wale Ajayi, the applicant said he has been on hospital admission before his arrest, detention and subsequent arraignment before an Ilaro Chief Magistrate's Court 1 on September 19.
The applicant claimed he has been suffering from severe pain from gunshot injuries sustained during his services in the Nigerian Army and old age, hypertension and series of infection and, therefore, requires constant medical attention.
The applicant, who is also the Head of Kingmakers of Owoland, said his life is in danger as pains, together with the resulting infections and other diseases are terminal.
Counsel to applicant, Ajayi, while urging the court to admit his client to bail, said the offences for which his client is being tried are bailable at the discretion of the court.
According to the lawyer, the applicant voluntarily surrendered himself to the Police in Ogun State.
The Police had arraigned the applicant, Ajayi, and Aredeyi Jide on a four-count charge of murder before a Chief Magistrate's Court sitting in Ilaro, Ogun State.
The duo and others still at large were alleged to have conspired to murder the Olowo of Owoland, Oba Patrick Fasinu, and setting him ablaze.
The Police said the alleged offences committed by the defendant are punishable under Section 324 of the Criminal Code Laws of Ogun State, 2016.
However, in the affidavit supporting his bail application, Dauda claimed that he was set up for the alleged offences to get him executed extra-judicially, because he refused the request of a younger brother of the late Oba, to be installed as the successor of the deceased Olowo of Owoland.