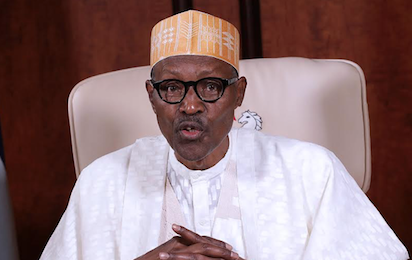 President Buhari while addressing the nation on 1st Oct 2017
By Rotimi Agbana
Ahead of October 1st independence celebrations, erstwhile musician, Olalekan Fadeyi, fondly called 'Azadus', has called on Nigerians to applaud President Muhammadu Buhari, because, according to him, even in the face of brutal terrorist attacks by the deadly Boko Haram sect, and Biafra's agitations to secede, he has been able to adequately sustain the economy and security of the nation.
While speaking to Showtime in an exclusive chat on how the entertainment industry has thrived under the Buhari led administration, he was full of praises for the President.
"We must continue to give it up for President Buhari because if the country had become a 'free for all' as the Boko Haram sect had intended it to be, who would have the guts to perform on stage, who will be able to go out to watch the concerts?", he observed
Speaking further, he confirmed that the dwindling economy negatively affected the entertainment industry, but entertainers have been able to survive the economic stormy waters.
"It has affected every industry in the country but there is always light at the end of the tunnel. We must also give it up for the artistes, the economy is not friendly but musicians still create songs that are quite friendly to the ears and minds", he submitted.