BY CHARLES KUMOLUBY CHARLES KUMOLUEXECUTIVE Director of Global Sterling Products, Rishabh Puri, who  was born in India and raised in Nigeria, speaks on how his company  is boosting the Made in Nigeria campaign and how best to make Nigeria's economy self-sufficient.
Tell us about yourself and your company, Global Sterling Products?
I was born in India and raised in Nigeria. I did my schooling at an Indian school based here before moving to a British school in Lagos where I studied Business Administration through distance learning. I ended up with a master's degree in Business Administration/International Trade. Frankly, getting into business was never on the agenda. I did not have an engineering background but the influence of my father made me explore a different side, which I wasn't aware of. And I haven't looked back ever since.   Global Sterling Products Limited is basically involved in setting up industrial turn-key projects like packed food, ready to eat food, beverages, industrial water treatment plants, residential and domestic. We also set up plastic industries, Agric-based industries, cosmetics and pharmaceuticals industries among others. We do it from small, medium to large-scale levels. Our inventory is up to 200 machines which ranged from manual, semi-automated, to fully automated. We basically meet our clients' requirements. This esteemed company was founded by my father.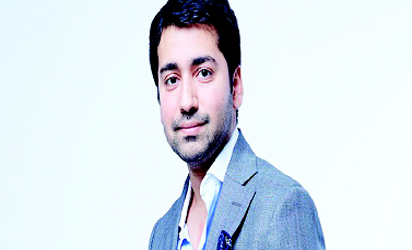 How long have you been doing business in Nigeria?
We have been doing business in Nigeria for about 35 years and we are still growing strong. I partially joined the business while I was studying for my bachelors and masters degree at the age of 18. It was to gain whatever wisdom I could from my father. It was like a child learning how to walk.
On improving Nigeria's economy through agriculture
There is a need for an integrated approach to rural development. Currently, no less than five ministries or institutions work on rural development in Nigeria. The ministry of agriculture and the various research institutes work on livestock, crops, and forestry development project. Adequate rural development will bring an end to urban migration because basic amenities will be attracted to service the farms. More jobs will be available in the rural areas and the inhabitants will be happy. Our priority should be to preserve and store what has been grown and harvested to last till the next harvest season. We should commission research into food preservation and storage that will suit our type of food and environment.
What are the advantages associated with your machines?
They stand to get a lot of benefits because we have been in the country for three decades. We have a great technical background with experienced staff manufacturing our equipment and most of our equipment is manufactured based on our technical specifications. Our customers are sure of spare-parts availability at all times. We have a minimum of 24-hour downtime, subject to holiday's strikes and late receipt of a complaint. However, our intention is to have our customers smile. The more they smile, the happier we become.
What makes your company different from others?
Some of the big manufacturing names in the country are all associated with us. This brings utmost pride to us when we see their products on any supermarket shelf.
Global Sterling Products Limited caters for clients who desire to become entrepreneurs and we want to see Nigeria grow. All over the world, where the brand, Made-in-Nigeria products are displayed, we want the products to be the best so that Nigerian manufacturers will be encouraged because their products are going places.
How can Nigeria's economy develop through local production? 
Nigeria's economy is currently on the upward trend. The positive movement of this sector has underscored the importance of Agric-business, which includes the food and beverage industries in Nigeria. Everyone in the country, from the President to the man in the street, is talking about diversifying the economy from the oil-dominated mono-economy to agriculture.
From this, you can see the importance of agri-business/food business to the future of the Nigerian economy. I anticipate that there will be plenty of agri-business/food opportunities in the nation in times to come. There is no doubt that agriculture is vital to the sustainability of most countries, as it supports the basic need of a consumer, provided it is placed in the right direction. Despite that, I can't help but feel that we are making some fundamental mistakes when going agribusiness in Nigeria. The government should consider to subsidies the local manufacturers.
On marketing and pricing system
Before the creation of states in Nigeria, marketing boards were used in the three regions to organize the sale of our cash crops. After the creation of states, commodity boards were formed to deal with specific crops that were produced in various states. These commodity boards added to market the crops by reducing the overhead and operating costs so that farmers could get higher prices for their commodities. This encouraged the farmers to grow more crop and produce more livestock. The government should promote literacy through adult education for illiterate farmers so as to facilitate the process of communication on modern farming techniques, farm subsidies, and incentives. They should also be informed as to where and when they will get subsidies.
More emphasis should be placed on the development of high yielding varieties of crops suitable for each ecological zone and system of cultivation. To avoid the large drain of foreign exchange resulting in the importation of fertilizers, fruits, and foods, we must manufacture and process farm produce in Nigeria.
Agri-business in Nigeria would involve a lot of planning. Nigeria is blessed with wonderful soil, fruits, and vegetables, which can all be used to satisfy the local consumption of its citizens, without importation.
Are there new things you have introduced into the Nigerian market?
We introduced a product called GSP Drink Pure with various models to suit our clients' budget because water is the key to human needs and survival. It is doing pretty well in residential, commercial areas, offices, and hospitals. It is suitable for all sources, be it tap water, municipal or borehole water. It is 100 percent chemical-free water. Its filtration system ensures the balanced intake of useful minerals essential for the human body. It solves the problem of harnessing and high iron in water, converts acidic nature of water to alkaline, which is highly recommended for the human body. GSP Drink Pure controls water-borne disease such as jaundice, dysentery, typhoid, cholera, indigestion, among others. It makes bottle water quality right at home. It is durable, requires less maintenance and removes the primary headache of carrying the 20-liter heavy refills for frequent refilling. We are trying to save the cost of water among those who can't afford good hygienic water.
What steps do you think the government can take to encourage entrepreneurship and investments?
The government can assist by setting up special local banks whose job will be to extend credit facilities to budding entrepreneurs. The Federal Government established the agricultural co-operative/food and beverage industries and credit bank to serve this purpose. If it is appropriately managed, this bank would be an asset to like-minded businesses. Groups of businessmen can form co-operative ventures, which will facilitate the granting of loans and subsidies to them. Effective tax relief should be granted them to encourage the accumulation of capital for further investments in meaningful ventures to boost the Nigerian economy.
Land should be allocated for farming and manufacturing. Perhaps, as the West and East do, allocate an industrial area, where budding and established companies can be cited for industrial development. That would also reduce traffic, create better infrastructure and would keep the residential and industrial areas apart.
What is your advice to youths who want to become entrepreneurs?
When I see Nigerian young entrepreneurs with their ideas, beliefs, and hope for the future, I am so amazed because that is what the economy needs to develop.     What we need is not total infrastructure but a firm belief in the future. Real entrepreneurs do not wait for infrastructure but build infrastructure. That's why in the next 20 to 30 years, I envisage that Nigeria will become one of leading global economies.   Believe in your ideas, no idea is too big or little. The moment you have faith in an idea, nothing will stop you from reaching the heights you imagined.