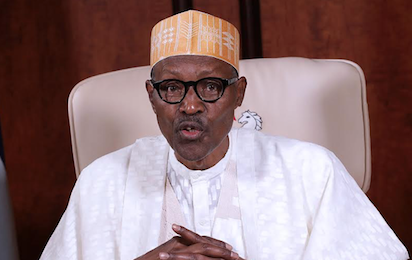 President Buhari while addressing the nation on 1st Oct 2017
…Says Int'l community fuelling corruption in Nigeria
By Emmanuel Elebeke
An advisor with Transparency International, AI, Mr. Mathew Page, has taken a swipe at the anti-corruption fight of President Muhammadu Buhari-led administration, describing it as political and selective.
Page made the remark, weekend, during a workshop organised by Centre for Democracy and Development, CDD, in Abuja with the theme: From Maitama to Mayfair: How International Financial and Property Markets Fuel Corruption in Nigeria.
He said though the anti-corruption fight by the current administration was robust and had made some remarkable impacts, the style remained political and selective in approach.
According to him, there is need for some fundamental reforms in the system and way the anti-corruption agencies are being run to make them become more effective and efficient.
Page, who was the guest speaker at the event and also the author of the forthcoming book, Nigeria: What Everyone Needs to Know, observed that the government was also slow in taking necessary steps in tackling corruption in the country and advocated holistic reforms.
He said: "My feeling on the style of fighting corruption by this government is very significant. It is very robust but is quite selective. There should be some root reforms in terms of the way the agencies operate.
"We know for a fact that corrupt activities are going on as they also have done in the past and it seems the government of the day is slow to taking expansive approach to fighting corruption.
"This is not to say the government has not made progress. Agencies like EFCC are doing a robust job, given the resources. I feel the anti-corruption war is quite political in Nigeria and selective.
"There is still need for more to be done to look into the activities of people in government now and members of the ruling party and not just people who were in the past government."
Int'l community fuelling corruption in Nigeria
On how the international community is fuelling corruption in Nigeria, Page said: "We often talk about corruption in Nigeria being a domestic problem focused here but we miss a part of the conversation about how the international community, especially the property markets in US, UK and other European countries, aid corrupt Nigerians to steal away public funds from Nigeria."
According to him, the host countries where Nigerians stash stolen funds are guilty of aiding corrupt Nigerians because they operate laws that provide the looters a safe haven to launder public funds from Nigeria.
Beyond sustaining the anti-corruption by government, he said US and UK should recognise their illegal financial system, property laws which contribute to corruption in Nigeria, and in turn fuels corruption in Nigeria.
Page said: "By co-operation, they facilitate corruption by Nigerian politicians. Government officials take money they looted in Nigeria to buy property in US, UK and essentially make it disappear from Nigeria.
"There are two sides to the story but we talk much more about the other. A lot more can be done in fighting corruption across board. Rather than using rhetoric and talks, Nigerian can look at how UK, US use laws to fight corruption to address the anomalies."
Other speakers who spoke at the event also agreed that the international community aid corruption in Nigeria and called for internal mechanism to curb the menace.