…As militants choose between Clark, Ayemi-Botu-led groups
…HRM Timiyan returns to PNDPC
Emma Amaize., Regional Editor, South-South
EXACTLY  eight days after the Reformed Niger Delta Avengers, RNDA, heading a coalition of nine militant groups proclaimed a new body and leaders to supplant the Pan Niger Delta Forum, PANDEF, the umbrella body of monarchs, leaders and stakeholders of the coastal states of Niger Delta, led by the former Federal Commissioner for Information, Chief Edwin Clark, PANDEF rumbled, on Sunday, dismissing the seeming threat to its existence.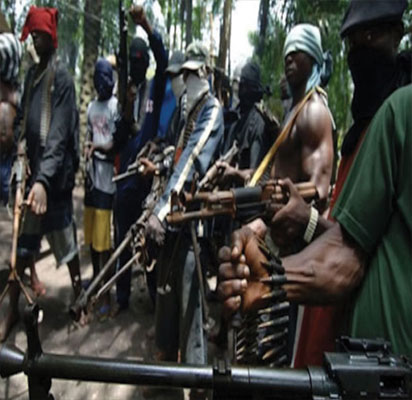 PANDEF, in a statement by its Coordinating Secretary, Dr. Alfred Mulade, said RNDA and other so-called militant groups that purported to have withdrawn their mandate from the body did not give it mandate in the first instance, and in any case, they were non-existent and faceless militants.
The group, which also took a swipe at the leader of the Pan Niger Delta Peoples' Congress, PNDPC, the new platform, shepherded by one-time national chairman of the Traditional Rulers of Oil Minerals Producing Communities of Nigeria, TROMPCON, His Majesty Charles Ayemi-Botu, alias Lion of the Niger, and coordinated by activist, High Chief Mike Loyibo, said they were turncoats, adding that PANDEF was the authentic voice for the region.
However, PNDPC, which met, Monday, in Warri, Delta State, brushed aside the growling of PANDEF, accepted the call to steer the affairs of the region and put in place machinery to commence work.
PNDPC maintained that it was time for change, adding that many leaders in the region had approached Chief Clark in the past, asking him to step aside because of old age for younger people to lead the region, but he refused.
RNDA, others never gave us mandate – Clark group
In its 13-paragraph reaction to the unfolding development, PANDEF said: "There have been some items in the media where a certain coalition of militant groups under the aegis of all sorts of names, being coordinated by a so-called Reformed Niger Delta Avengers (RNDA), purported to have displaced the Chief Edwin Clark-led PANDEF, and adopted another certain Pan Niger Delta Peoples 'Congress (PNDPC), to negotiate with government on behalf of the region.
In as much as, PANDEF does not intend to join issues with the so-called PNDPC and its promoters, in the likes of HRM Pere Charles Ayemi-Botu, JP, Paramount Ruler of Seimbiri Kingdom, and Chief Mike Loyibo, assumed National Leader and Coordinator, respectively,   it is however imperative and expedient that the records are correctly placed in the public domain.
"There was never at any time any group of militants that goes by any of those names gave PANDEF any mandate, as these groups do not exist anywhere. This is a clear handiwork or creation of mischievous persons of no consequence and grassroots relevance attempting to mislead the public, to appropriate the gains PANDEF has recorded for the Niger Delta, to curry cheap popularity.
"Since this tantrum began few days ago, we have been inundated with calls and visits by the patriotic sons and daughters of the region committed to the vision of PANDEF reaffirming the assurances of their continued loyalty, commitment and support to the ideals and nurturing of PANDEF to be the truly regional voice towards the attainment of sustainable peace and development of the Niger Delta region", Mulade said.
We accept nomination and call to duty – Ayemi-Botu
However, PNDPC leader, HM Ayemi-Botu, who spoke to newsmen at the end of group's meeting in Warri, said: "For the records, it must be emphasized that this fresh mandate is a call by leaders, stakeholders and militants in the Niger Delta to inject a new lease of life in the leadership of the region. The Niger Delta has suffered hiccups in recent times due to the political leaning, antecedent and advocacy style of our leaders which have made the Presidency to continually deride the region.
"In recent past, stakeholders of the region have approached the leader of PANDEF, Chief Edwin Clark, who we are all proud of, to groom younger leaders, step aside and allow these younger leaders in the region to take over, but he refused as it is customary with him. He failed to properly utilize his highly patronized office as Father of the President for six years to address and solve most of the issues contained in the 16-point Agenda of PANDEF.
"It is time for change, and nobody can stop change when it comes because it is like a tsunami. This is why the proclamation of the militant groups on a new platform to lead the Niger Delta struggle did not come as a surprise. We are accepting this call, not just from the militants, but from the peace-loving people of the Niger Delta, who have encouraged us to do so in order to give the region a more vibrant leadership and better focus. Papa Clark has paid his dues, but he is currently having challenges leading the region. The time to bow out and rest is now. Let the younger ones go out and report back to him," he asserted.
According to him, "In no distant time from now, this body shall commence a credible process of strategic engagement of our distinguished political leadership, development partners, ministries and agencies and other stakeholders in our rural (creeks) and urban communities to re-assess the current status and impact of our underdevelopment, and re-appraise the reasons behind the abysmal failure of our efforts, to enable us as a people chart a new course, with a renewed vigor."
RNDA, REF, NDCL still rebuff PANDEF, Clark
Reacting to the insistence by PANDEF that it remained the authentic voice of the region, convener of coalition of militant groups opposed to the group, self-styled "Major General" Johnmark Ezonbi, maintained that PANDEF and Clark "can no longer speak for Niger Delta."
He explained: "The decision to change the leadership of the region under the former Federal Commissioner for Information, Chief Edwin Clark, was informed by the need   to do away with the   old brigade and refocus the region. Chief Clark is too old and should have remained an opinion leader, rather than take up such responsibility when he was among those who created the underdevelopment in the region."
"He cannot continue to hold the region to ransom and more painful to note is that most of the PANDEF members have held various positions, but did not do any meaningful thing for the region.    Why did they not form PANDEF when Jonathan was President? We reaffirm our position that the Chief E.K Clark- led Pan Niger Delta Forum, PANDEF, can no longer enter into  negotiations with the Federal Government on behalf of the region because PANDEF members are made up of people, who could best be    described as idols of underdevelopment in the Niger Delta," he said.
…Stand on Ayemi- Botu leadership
On the expanded PNDPC structure, RNDA leader stated that HM Ayemi-Botu, would work with other royal fathers and former governor of Bayelsa state, Chief Timipre Sylva and the Coordinator, High Chief Mike Loyibo to give the region a new direction.
He said: "Other leaders of PNDPC are the new national chairman of TROMPCON and paramount ruler of Ibeno land,   HRM Owong Acharanga, Akwa Ibom State, HRH King Suanu Baridam, Gbenemene Bua 11, Ogoni Rivers State, former Speaker of Delta State House of Assembly, Rt. Hon.Olisa Imegwu, Chief Paul Evwierhoma, Prof Patrick Mouboghare, a retired Supreme Court judge, Hon Justice Francis Fedode Tabai, DIG Mike Zuokumor (retd), former Deputy Governor of Bayelsa state,   Rt Hon Peremobowei Ebebi and Prof Christopher A Dime."
"The new PNDPC with HM Ayemi Botu as the Head and Chief Mike Loyibo as the Coordinator/Convener with some eminent personalities for the Niger Delta region, which cuts across the various ethnic groups will discuss with the Federal Government as responsibility has been placed on them.
Commander, REF,   comprising the Reformed   Egbesu Assembly, Egbesu Red Water Lions , ERWL, Egbesu   Mightier Fraternity , EMF and the Egbesu   Marine Commandoez,   "General" Tony Alagbakereowei said:   "Nature abhors vacuum, the Reformed Egbesu Assembly, having withdrawn its mandate from PANDEF and Clark, now   endorse HM Ayemi Botu to lead the Niger Delta   under   the platform of the Niger Delta Peoples' Congress and by this mandate,   the Federal Government,   ministries, departments and agencies are to note accordingly."
Those who led Jonathan astray
Another militant group, Niger Delta Creek Lords, NDCL, in a statement by "Capt." Agbakumo after a meeting in Warri, said: "We are affirming our support for Loyibo- coordinated Pan Niger Delta People's Congress. Most of the PANDEF acclaimed leaders were those who led our brother, Goodluck Jonathan astray. Their activities over the years have shown that they are only after their selfish interest and not for the general good of the region. We cannot continue to fold our hands and allow things to go wrong. What we need at this time are vibrant minds that can genuinely drive negotiations for the collective good of our people, not elderly men, who have passed their prime"
RNDA truly didn't give PANDEF mandate
Findings by Saturday Vanguard showed that as claimed by PANDEF, RNDA never gave it any mandate. The group was indeed, one of the militant groups that worked against PANDEF and Clark from the time the body formed till date. But, REF, which has teamed up with RNDA, was one of the militant groups that agreed to ceasefire, last year and endorsed PANDEF's mandate. The Niger Delta Creek Lords, which has joined the fray against PANDEF, appears to be a relatively new creation.
HRM Timiyan, others team up with PNDPC
Also, the traditional ruler of Ogulagha, HRM Joseph Timiyan, reported to have spurned PNDPC, returned to the body, last Monday, saying his initial position was because he was not briefed.   Similarly, former Supreme Court Judge, Justice Francis Tabai (retd), pioneer president of the Ijaw National Congress, INC, Prof Dime, former Speaker of the Delta State House of Assembly, Rt. Hon Olisa Imegwu, Chief Paul Evwurhama, Prof Eyo Etim and Rev Dr.O J S Agbarah, who were said by PANDEF to have rejected their nomination, attended the said PNDPC meeting in Warri.