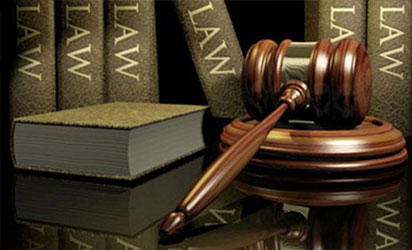 Judicial symbol for justice
A Karu Grade 1 Area Court in Abuja on Monday sentenced a rejected suitor, Emmanuel Egbo, to four months imprisonment for assaulting a lady for refusing his amorous advances.
Egbo, 27, a salesman, residing at Ungwar Tiv community in Karu, was arraigned on a three-count charge of assault occasioning harm, unlawful restraint and criminal intimidation.
The Judge, Mr Hassan Ishaq, however, gave the convict an option of fine of N 9, 000, ordering that Egbo should pay the complainant, one Chioma Ugo, N15, 000 as compensation for medical expenses.
Ishaq also ordered the convict to write an undertaking to bear any other expenditure incurred with regards to the treatment of the assaulted lady.
Earlier, the Prosecutor, Mrs Helen Ashasim, told court that Ugo, who also resides at Ungwa Tiv community in Karu, had on Aug. 31, reported a case of assault, unlawful imprisonment and criminal intimidation at the Karu Police Station.
Ashasim said that the complainant alleged that on the fateful day, Egbo called her on phone to assist him to purchase some drugs because he was not feeling well.
The prosecutor said that the convict, who was a neighbour to Ugo had previously asked her out but she refused.
Ashasim said that when Ugo got to Egbo's entrance and knocked, he opened the door, dragged her in and threatened to forcefully had carnal knowledge of her for not agreeing to an amorous relationship with him.
"When the complainant began shouting, the Egbo prevented her exit from his apartment and began to assault her.
"He inflicted severe injuries on the lady's before she was eventually rescued by her younger brother, who was in the house,'' the prosecutor said.
She said that the complainant was rushed to a hospital in Nyanyan, where she had been receiving medical treatment and had spent N15, 000 so far.
The prosecutor said that the offences contravened Sections 250, 256 and 397(b) of the Penal Code.
After listening to the charges, Egbo pleaded guilty but urged the court to temper justice with mercy.
NAN