…Still on investment outlook for cement stocks
By Emeka Anaeto, Business Editor
LAST week we presented a general outlook for stocks in the cement sector and concluded that on a basket perspective the stocks are worth investing in short to medium term even now that bullish sentiment still dominates the market.
We also noted the analysts' upward review of their forecasts on financial performance of the companies as well as target prices (TPs) of the stocks.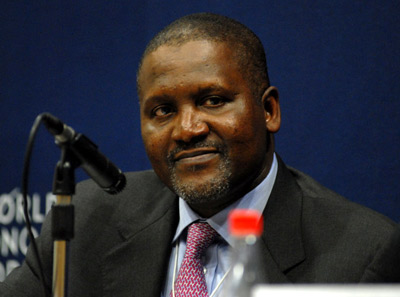 Our review last week came at the backdrop of investors' apathy to some positive information on two of the companies, Dangote Cement Plc and BUA Group which controls Cement Company of Northern Nigeria Plc, CCNN. But investors appeared to have started seeing what we pointed out in our last week's report in this column. Consequently, despite the bearish sentiments that pervaded the market stocks bounced back last week with Dangote chucking up 3.5 per cent, CCNN upped by 0.57 per cent and WAPCO controlled by Lafarge Cement went up 3.02 per cent.
By the virtue of the investment analysts' views the stocks would still appreciate more in the trading days ahead.
Cement Company of Northern Nigeria Plc.
For many analysts CCNN is turning out brighter this year. In fact they have upgraded their ratings for the first time in recent years. In addition to the first half 2017 (H1'17) result showing the company's plant is operating at a high utilization rate, the company recorded accretion to earnings from higher cement prices and less disruptive energy costs.
Already, at N8.75 closing price last weekend the stock had substantially surpassed earlier TP of N7.47 set by analysts, and also beat the  'SELL'recommendation on 19 per cent downside. As at the time of the recommendation (end July, 2017) CCNN's share price was doing 104.2 per cent YtD.
The company's Q2-17 revenue and net profit grew by 43% year-on-year, YoY and 24 per cent YoY respectively. Though it is obvious revenue growth was enabled by higher Nigerian cement prices, many observers also believe there has been relatively stable volume.
Gross margin, though lower by 346 basis points (bps) YoY, have recovered, reflecting both the higher price of cement and lower energy costs (compared to the supply crisis that adversely impacted LPFO price same period in 2016). However, OPEX still increased significantly (+53 per cent YoY) but the impact was muted by strong revenue growth and higher margin.
Consequently, analysts estimate 2017 full year Earnings Per Share, EPS, to tip over N1.70, representing an increase of 79 per cent YoY. Basically, this optimism is based on some factors such as a fairly stable volume outlook, higher prices, and limited energy headwind.
To this, analysts at Cordros Capital Limited, a Lagos based investment house, stated: "It is our view that notwithstanding the broadly subdued nationwide demand, given appropriate logistics and undisrupted energy supply to the cement plants, the 80 per cent utilization rate we estimated (equating to 395,000 tonnes) is achievable in CCNN's less competitive market. This augments well with the near term strong pricing outlook, wherein the market leading cement companies appear strongly averse to lowering prices."
Constraints
However, it is not all rosy for CCNN. For the analysts there are two major deficiencies the group suffers with its current mode of operation: Capacity constraint and hence, weak operating leverage, and secondly, high per unit production cost as a result of heavy reliance on expensive, USD-linked, and often unavailable LPFO, as having long term implication for earnings. But again, with the stability in the foreign exchange market the company may have been exiting this stress.
Dangote Cement Plc.
If we know Aliko Dangote very well we should know that his bid for South Africa's cement giant, PPC Limited, would likely be successful amidst other bidders' push to upstage him. But surprisingly Nigerian stock market where the stock of the bidding entity, Dangote Cement Plc, was listed, appeared impervious to the implication and hence the stock pricing was negative.
However, the apathy was reversed last week with the stock in modest appreciation. Some analysts expect more appreciation of the import of the development affecting the pricing of the stock going forward.
Before now analysts at Cordros Capital Limited had revised earnings estimates higher largely to reflect the impact of additional product price increase (in Nigeria), higher than expected FX gain on the revaluation of assets (on USD/NGN of N325 vs. N310 previously), and importantly, better-than expected progress achieved from the energy diversification program in Nigeria. The upward review put the new TP at N221.34, up from N203.91), but market consensus is looking above N230 while maintaining a HOLD'recommendation.
In the second quarter 2017 (Q2-17) financials, revenue   was up by 34.8%   YoY, while Earnings (EBITDA) and Profit After Tax (PAT) were up 67.5 per cent and 45.1 per cent respectively at the group level.
It is believed that the revenue growth was underpinned by higher average prices which was up 58 per cent across its international operations, and which more than compensated for the average 14.6 per cent decline in volume. In Nigeria, cement prices went higher by 75 per cent, against the 28 per cent decline in volume while pan-African volume grew by nine per cent despite prices being 42 per cent higher compared to same period of 2016.
Since the unexpected FX-induced poor performance across the industry in Q3-16, Dangote Cement's earnings have recovered quite impressively, and analysts' view is that compared to peers (notwithstanding the dragging non-Nigerian business), the group is currently best positioned to derive stable growth over the medium term. The group dominates its largest market, Nigeria, and has increased market share commendably within short period sojourning offshore. Asides from the ability to set prices in Nigeria, the group's effective cost management is constructive, hence the superior margins and returns.
Lafarge Africa Plc.
Lafarge, just like the other two, is also having favourable outlook. Analysts have revised earnings estimates higher largely to reflect the impact of additional price increase in April and the impact of positive fuel mix on margins. The TP is put at N87.44 (previously N80.98), and a BUY'recommendation is maintained.
The firm's Q2-17 revenue grew by 33.8 per cent YoY while net profit, helped by a tax credit of N6.2 billion, was N14.57 billion, coming from a loss of N28.37 billion same period of last year.
During the period, gross margin rebounded to 32 per cent, from 25.7 per cent in Q1-17, reflecting both the additional price increase in April and a positive fuel mix. On the negative however, financing cost increased by 170.7 per cent while OPEX rose by 77.3 per cent. Both were impacted by the reclassification of borrowings (including minor additions) and restructuring/logistic costs respectively.
The company's management expects cement prices to remain strong over 2018, even though we understand the group lacks the capacity to effectively set prices. Analysts are of the view that following lower than-expected volume in Q2-17, estimate for full year 2017 should be revised lower to 4.7mMts (-15 per cent YoY), coinciding with the 10-15 per cent range of contraction guided by the management for the industry.
Quasi-equity instrument
The group had reported massive increase in financing cost in Q2-17, on the basis of the reclassification of USD220 million shareholder loans from a quasi-equity instrument to borrowings, the intake of additional N13.6 billion in respect of the South African business, and the N9 billion resulting from the revaluation of hedged debt.
As at June ending, gross debt stood at N245 billion, up from N147 billion in Q1-17, and consequently, analysts increase estimate for financing cost to N20.7 billion, from N16.6 billion.
Plotting the way out of the debt web, on the shareholder loans, the management plans to refinance USD286 million through the approved N140 billion Rights Issue programme and also retain the balance of a hedged USD308 million for subsequent refinancing using short term local debt.
In addition to adjusting financing costs higher over 2018 financial year to reflect the USD220 million reclassified into borrowings, analysts believe Lafarge's earnings remain highly vulnerable to unexpected negative change in FX policy.