BY JIMITOTA ONOYUME
PORT HARCOURT – All Progressive Congress, APC, and the Peoples Democratic Party, PDP, were locked in a war of words Wednesday over the allegation by governor Nyesom Wike that the Special Anti Robbery Squad, SARS, was behind kidnapping and related crimes in the state.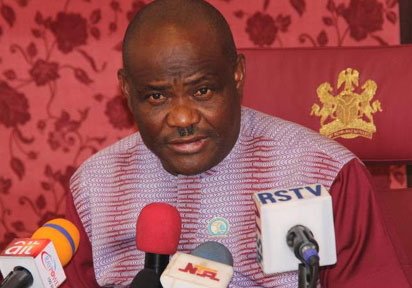 Spokesman of the APC, in the state, Mr Chris Finebone dismissed the allegations by the governor, alleging that it was a ploy to smear some top personnel of the security body who had allegedly refused to compromise their roles
Finebone who spoke at the state secretariat of his APC in Port Harcourt called on the security body not to be domoralized by the allegations of the governor.
"Same applies to the various security agencies, they must refuse to be dismayed, demoralised and distracted by Wike's antics. They must continue to work to secure Rivers State.
He said the party only came in to denounce the allegations of the governor because it sounded as if it was a beneficiary of the allegations against the officers of SARS.
"Ordinarily, the All Progressives Congress, APC, has no business involving in any matter between the governor and any other entity but in the instant case and even in previous related cases, the governor has either alluded to or expressly stated that the APC benefited from whatever allegations he raised against the police or particularly the SARS. The APC has also been at the receiving end of the false alarms Gov. Nyesom Wike had previously raised against the Police which in all cases turned out to be mere smokescreen"
Meantime, the PDP spokesman in the state, Mr Sam Nwanosike expressed shock that the APC chose to respond to the allegation against some top personnel of SARS, stressing that it was a clear indication that the officers were allegedly working for the APC.
He said there were indubitable evidence allegedly linking the officers of SARS with crime and kidnappings in the state , adding that it was unfortunate that the APC would be defending what he termed the obvious
.
"From the position of the APC, the PDP has been vindicated that they (APC) are part of the crime. Instead of the SARS to react to their action that led to the killing of a police inspector, it is the APC that is reacting.
"It shows that top officer of SARS{ name withheld} is being sponsored by the APC in the state. We will not allow this matter to be swept under the carpet the way the issue of the printing of election result sheets was swept under the carpet. The inspector that was shot is a policeman. His wife is also a police woman attached to Elekahia Police Division.", Nwanosike said