By Dirisu Yakubu
ABUJA – The Peoples Democratic Party (PDP) has taken a swipe at the President Muhammadu Buhari- led All Progressives Congress (APC) government, saying its "minus zero" scorecard cannot win the confidence of voters in 2019.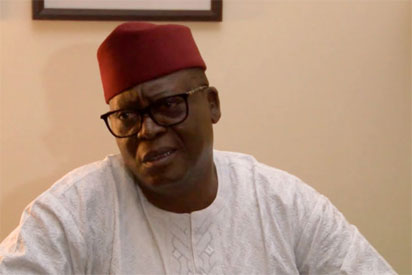 In a press statement signed by its National Publicity Secretary of the party, Prince Dayo Adeyeye, the party lamented what it called the "serial lies and blame game" of the ruling party against the PDP since its assumption of power more than two years ago.
"The PDP is amazed over some frivolous claims credited to certain leaders of the Ruling All Progressive Congress (APC) in which they expressed confidence that the party's scorecard in 2019 will be that it cleared the PDP's mess.
"We ask, how can a minus zero score card translate to confidence for winning elections? How convenient! It's therefore very obvious that the APC is still stuck with its serial lies and blame game against the PDP since it assumed power more than two years ago " the statement read adding that "Nigerians are already embittered and will not have a repeat of it in 2019; and we join them to say it is enough."
The PDP further noted that "In one of the APC leaders' haughty and empty boasts, they referred to the Nigerian economy as decadent before APC took over from the PDP in 2015 among other narrow minded claims they made.
"… We want to state emphatically that the APC's abysmal failure will indeed be the PDP's scoring points in 2019 given that the remaining one year plus will make no difference to the APC's incompetence and crass ineptitude in political, democratic and public governance.
"We promise to continue shielding the unsuspecting public from the APC's sworn deception. On a second thought though, it appears Nigeria is being ruled by the APC from her status in 1983; otherwise, this plethora of lies against evidence-based achievements of the PDP in the entire sector wouldn't have arisen.
"We wish to specifically note one other outrageous claim by these leaders, that the APC has recorded huge success in the 'Agricultural Sector' – in crops such as: rice and grains; and for tubers like, cassava and yam by next year. Indeed, this is absurd and a loquacious claim as there is no evidence, except increased hunger and frustrations on Nigerians daily.
"For the avoidance of doubt, the PDP did surpass the APC's imaginations of growth in agricultural sector especially, in the rice and cassava productions that they made boast of," the statement continued.
While insisting the nation is today worse off than the previous administration, the scribe noted that "The PDP Administration hinged the transformation of the agricultural sector on two major policy strategies: to eliminate corruption in the sector and the strengthening of its Institutions. We make bold to state that these policy actions resulted in giant strides for the 'Rice Crop', where local production increased with evidence of rice brands like, Ebony, Ashi, Mikap, etc., and they sold in Nigerian markets; thereby, reducing importation of rice to the barest minimum.
"A bag of rice sold for N8,000 while under this APC, its cost is almost 3 times more. Also, thirteen new private sector mills were established to buy and process up to 240 metric tons of rice. We sponsored 50 young Nigerian youths in a 5-month training programme on rice production to Kenya and enforced strict measures on importers of rice to encourage local production.
"In this Sector, we provided job opportunities, especially, for teeming youths but now under the APC, there are about 5 million jobs lost.
"Equally, these men claimed to rebuilding the ruins of the economy by creating an economy that is dependent on what Nigerians produce that will impact on the people of the Country. Wao! When and how? You can only give what you have!
"Let us further remind the APC leaders that they inherited a Nigerian economy that was growing consistently at an average of 7% annually for 10 years which General Muhammadu Buhari admitted to in Chattam House in February 2015; and she was the number 1 economy in Africa valued at over $500 million USD., and also the number 1 foreign investment destination (FDI).
"While we wait for the fizzling of this false party, the APC in 2019, we want to pray it to show mercy on Nigerians by achieving at least 20% of its jumbo promises which are too numerous to mention. We wish to re-iterate that the so called 'corruption war' is already a failure as well as other facets of governance."